Our futures and options brokers work one-on-one with clients to develop trading strategies and identify potential market opportunities.
Futures and Options Education
The first thing that sets us apart from other brokerage firms is we believe in educating our clients. We do this to give clients a better understanding of how the markets work, and how they can best be used in their risk management strategy.
---
Hedging and Ag Risk Management Strategy
We at The Hueber Report believe in a holistic approach to farm and agribusiness grain marketing. More often than not futures and options strategies can be utilized for a variety of reasons throughout the year to manage risk and attempt to capture additional upside.
Our brokers work one on one with clients to develop trading strategies for both hedgers and speculators. We don't just advise – we will help plan and execute a marketing strategy customized for your operation.
Additionally, we also offer an Ag Revenue Management platform to streamline and track the profitability of your agribusiness.
Trading futures and options involves substantial risk of loss and is not suitable for all investors or producers.
---
Comprehensive Commodities Market Analysis
The Hueber Report broker team endeavors to help clients identify potential opportunities in all markets, not only grains.  Our analysis focuses on market cycles, commercial activity and seasonal tendencies.  Be advised that fundamental factors, seasonal and weather trends, and current events may have already been factored into the underlying markets.
Privacy Policy Contact a Broker Sign Up for a Free 2-Week Trial of The Hueber Report
---
Download the Hueber Report Mobile App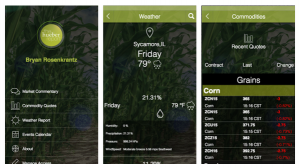 In our app we provide a daily market update, in-depth analysis of the futures markets, comprehensive weekly and monthly updates, immediate sale recommendations, realtime quotes and weather. The Hueber Report continues to grow because we are able to identify and advise on the true needs of today's farmer. We believe producers will face very challenging headwinds in the coming years. We are prepared for this challenging environment and believe you can be too.