By: Dan Hueber –
It would appear that last week after the initial Chinese tariffs went into effect, there was a certain sense of relief and possibly even a misguided belief that somehow that would bring the trade war to a head.  That sentiment has now been dispelled as Round Two Tariffs, 10% on another $200 billion of Chinese imports, were announced by the White House yesterday.  The reaction in both the grain/soy and livestock markets was quick and severe and from the looks of it, the remaining bulls must have gathered together for a final meal and instead of serving wine, they passed around a cup of hemlock.  At this point, the only grain/soy market that has extended into lower lows for the swing has been corn, which ironically should be the least impacted by trade with China and holds the most positive world supply/demand outlook, but the rest to not sit much above those previous watermarks.  To add insult to injury, maintenance margins for both corn and beans will be increased tonight.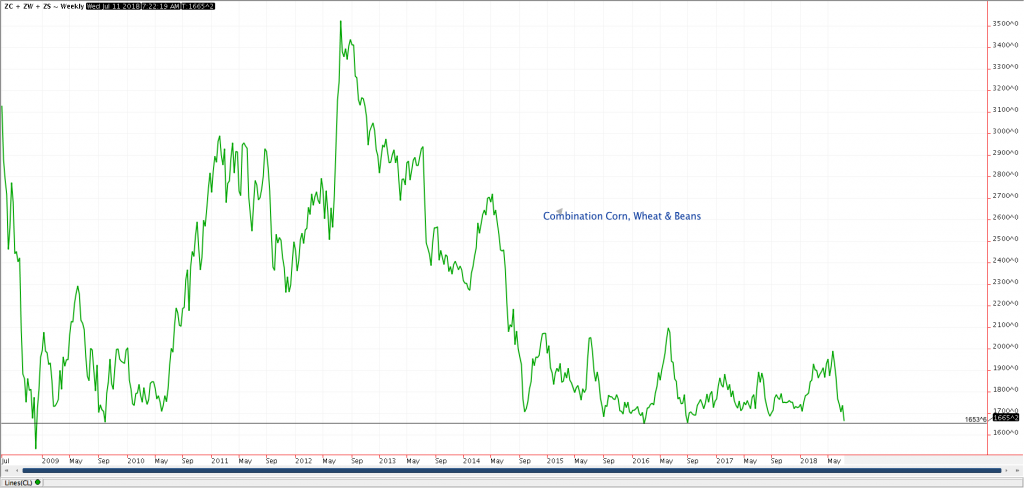 While I suspect much of it is trade war rhetoric at this point, the president of COFCO, the Chinese state-owned food processing giant, stated in an interview that they intend to replace US soy imports with alternatives.  By alternatives, they not only mean beans from South America but also products such as rapeseed, sunflowers and fishmeal.  Realistically, this is much easier said than done and we most certainly should not lose sight of the fact that global demand for protein has not shrunk, the dance partners are just changing.  That said, when the dominant user says they want to make long term plans with someone else, it is and should be unsettling and hence the secondary flare up of the Trade Tariff Terrors.
Markets need a distraction to help refocus attention on something else but for now at least, that would not appear to be coming via the weather.  The current 6 to 10 and 8 to 14-day outlooks have heat pushing to the south and east and at least for the earliest periods of that outlook, moisture through the mid-section of the country.  Unfortunately, that pretty much leaves the reports tomorrow for us to hang our hats on.
Once again here is a breakdown of industry estimates that I have seen thus far; Total corn production of 14.29 billion bushels coming from a yield of 175 bpa.  This compares with the initial forecast of 14.04 billion and 174. The bean production estimate stands at 4.319 billion from a yield of 48.65.  The current government number stands at 4.28 billion bushels and a yield of 48.5 bpa. Total wheat production is expected to come in at 1.859 billion compared with the June estimate of 1.827.  2017/18 ending stocks are projected to fall in around 2.111 billion corn, 506 million beans and for the 2018/19 crop year, corn is pegged at 1.718 billion, beans 484 million and wheat at 979 million.  On the world scene, 2017/18 ending stocks for corn are expected to come through at 191.42 MMT, 91.76 MMT for beans and 272.46 MMT wheat and then for 2018/19, corn at 156.27, beans at 88.15 and wheat at 265.05. Finally, Argentine corn production is expected to show up at 32.7 MMT and bean 36.7 and in Brazil, corn at 83.2 MMT and beans 118.9 MMT.
As agonizing as it may be, we need to remain patient for now and I would like to think that after we have seen these numbers published tomorrow, the trade will begin to look beyond the immediate domestic situation and at the global supply/demand changes that have been taking place and recognize that we already trending towards lower stocks and are poised to turn that way and trade tariffs will not change that trend.