By: Jeff Kaprelian –
Grains finished lower across the board on chart selling and broad based commodity liquidation. Much of the rally in soybeans has been driven by speculative interest both in China and domestically. This was evidenced in the COT report released yesterday which showed funds adding 29,604 longs in the bean market. It was simply ripe for a correction.
Now that the market is heading lower it is probably time traders will take notice that we haven't had our daily dose of export sales to China for a while. Out tomorrow will be the USDA's Quarterly Export Forecast (found here: https://www.fas.usda.gov/data/quarterly-agricultural-export-forecast).
We had a bit of good economic news today. GDP beat expectations at 3.2% That is the highest rate of expansion in two years. Also out in that report was an announcement that third quarter corporate profits rose 3.5% from the previous quarter. That's certainly a positive sign given the strength of the dollar. To add further strength, the Case-Schiller home price index showed that the housing market has fully recovered the 2006 peak in nominal terms. When adjusted for inflation we are still about 16% below the peak.
March corn fell 9'2 to 349'0 after giving signals we were making a top. The December contract, which enters the delivery period tomorrow, fell 11'6 to 336'6. Pressure was felt in that month because of long liquidation ahead of first notice day. We expect that spread to tighten over the coming days, so if you are holding shorts it would be a good time to roll them forward.
As stated this morning I'm still looking for 344'0 on the charts as a re-entry point. We have seasonals working against us as well as stochastics. It wouldn't be unusual to see a bounce tomorrow after such a hard day, and truthfully 344'0 is just a number. We have already entered the support zone it belongs to. Nonetheless, momentum still favors lower prices through the end of the week.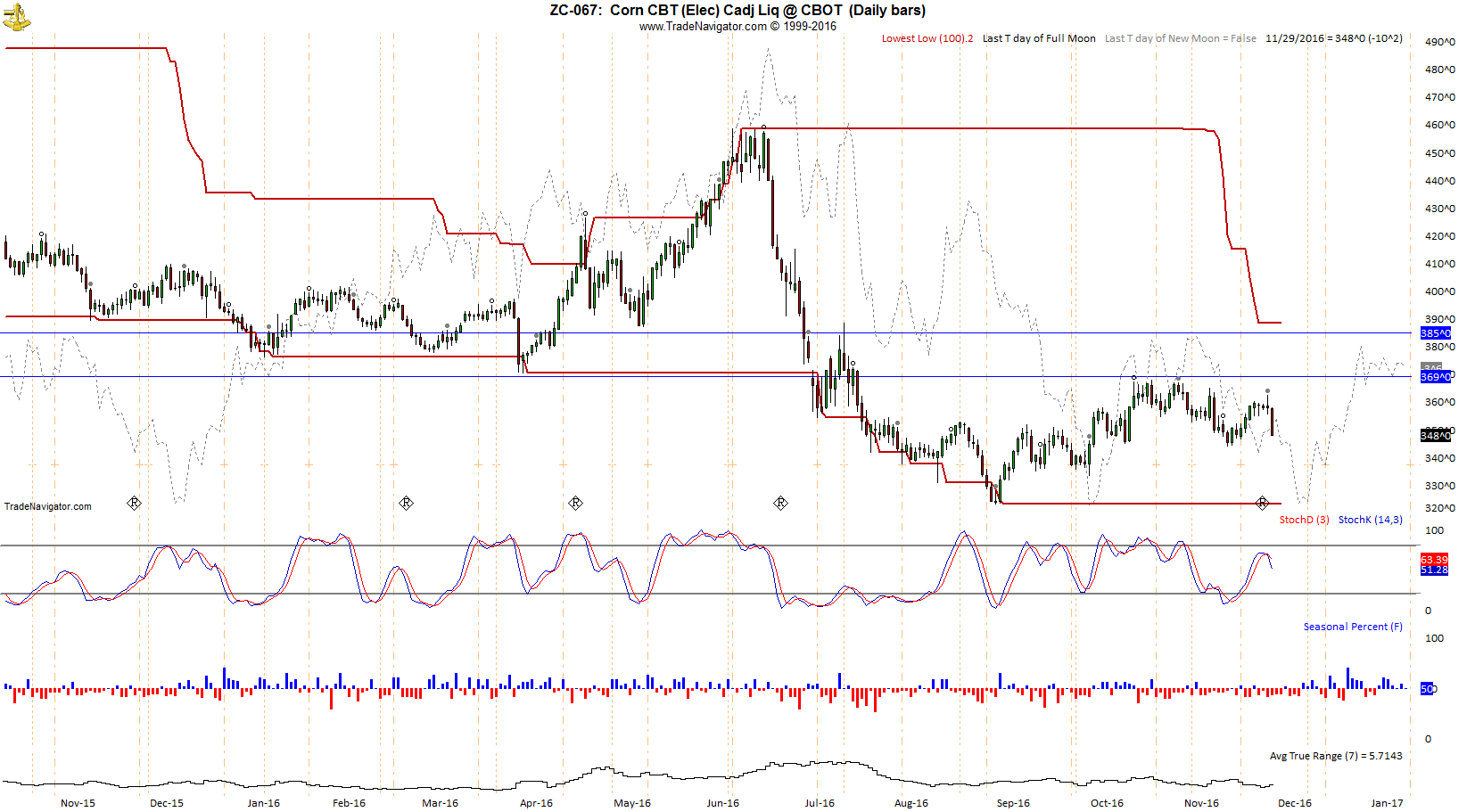 January beans fell 13'4 to 1042'4. I look for a setback to 1028'0 and potentially 1003'0. Despite today's ugly trade it still presents a good pricing opportunity. Either as a place to finish old crop sales or as a place to begin new crop. We favor sales up to 20% of your expected production for new crop. This is also an opportunity to look at short dated puts to get protection in place until we have crop insurance prices set next year. We have a lot of winter ahead of us and so far we aren't seeing bad news in Brazil. While it's too early to make accurate production estimates it does seem like there is a lot of price risk when looking at where we are now vs. where we were earlier this year.