Due to travel conflicts again this morning, only technical comments will be published.  Turns out, there is little newsworthy that has not been discussed already.  Export sales in the morning, which should not be very inspiring for the grain markets.
Wheat
Bulls in July wheat finally banded together and fought back yesterday and posted an outside higher reversal in the process.  While this very well may have marked a low for this market, we need to push through the 6.27 level on a close to provide confirmation.  Note that back on the 3rd of this month, we posted an outside higher reversal, and while we did follow through for a couple of days, we never reached through critical resistance and eventually fell backward again.  Oscillators have turned positive so bulls should have some wind at their backs, but will we need to remain patient for a day or so and see if they can extend the strength?  Even if they can, I would not be surprised to see prices slip back into the end of the month.  The next cycle count lines up for the 2nd.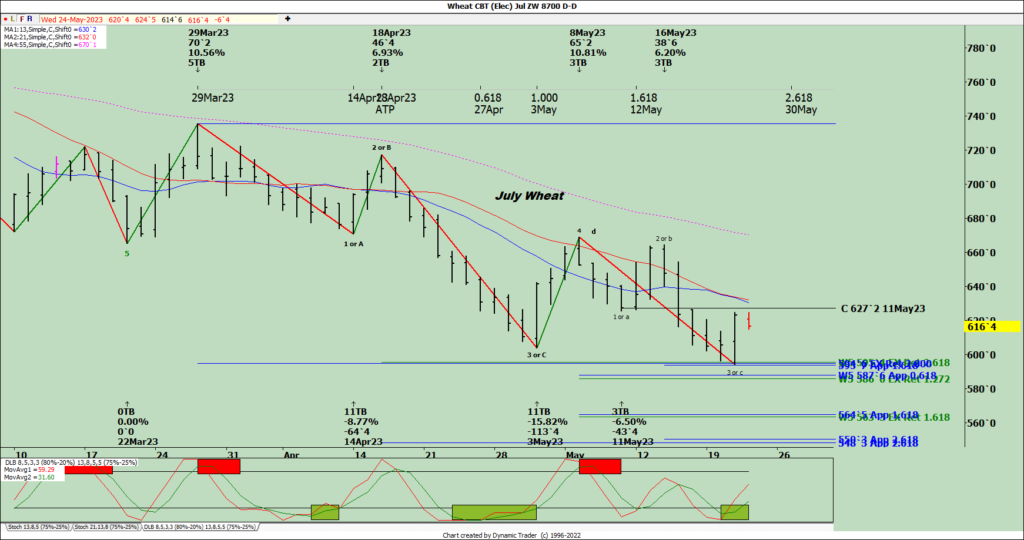 While not an outside higher reversal, KC July wheat did post a solid rally yesterday and posted the first higher close in the past four sessions.  While we have not witnessed any follow-through strength overnight, with oscillators showing signs of a bottom, I suspect we recorded a minor B wave low this week and could now be in store for at least a few days of corrective recovery.  That said, once more wave lows to the reach down and complete the 79% retracement at 7.75 may still be in the cards.  The next cycle count sits on the 2nd.
Corn
July corn closed higher for the third day in a row yesterday and has now reached up to challenge key resistance at 5.79.  We will need to begin closing above that point to confirm a bottom, and I suspect there will not be enough momentum left to pull that off this time around.  If correct, we should still have the potential for one more stab down into lower lows to complete the entire bear swing.  The next cycle counts ahead lines up for the 2nd of June.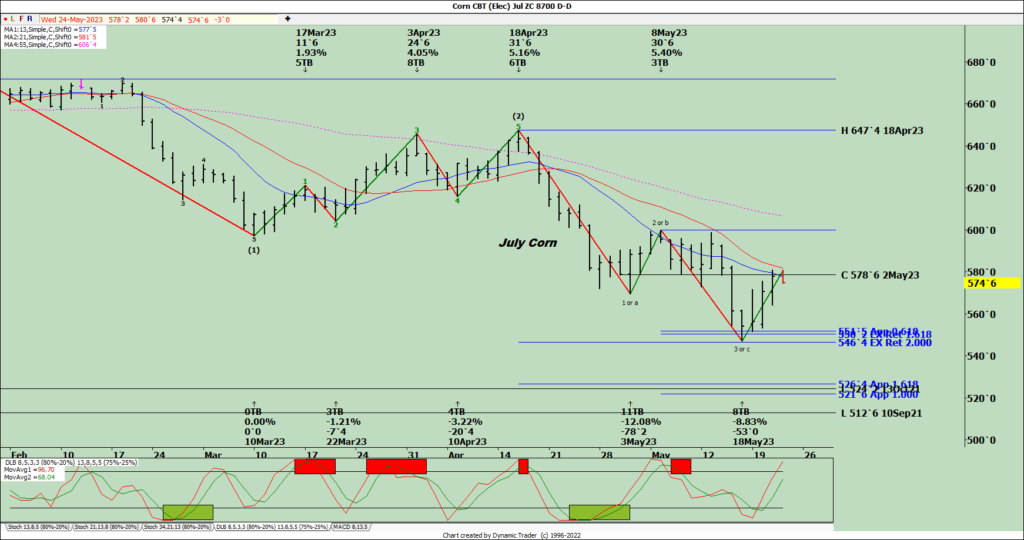 Nice bounce in December corn as well yesterday, but it still only qualified for the close, but no cigar award.  The low close for the last major swing lower was at 5.18 ¾, and we at least need to begin closing above that market to confirm we have reached bottom.  The fact that we have the 13 and 21-day moving averages sitting at that zone makes the task even more challenging.  Failing to do so within the next day or two would suggest the bears remain in control and would open the door for a possible push into new contract lows. The next cycle count lines up for the 2nd.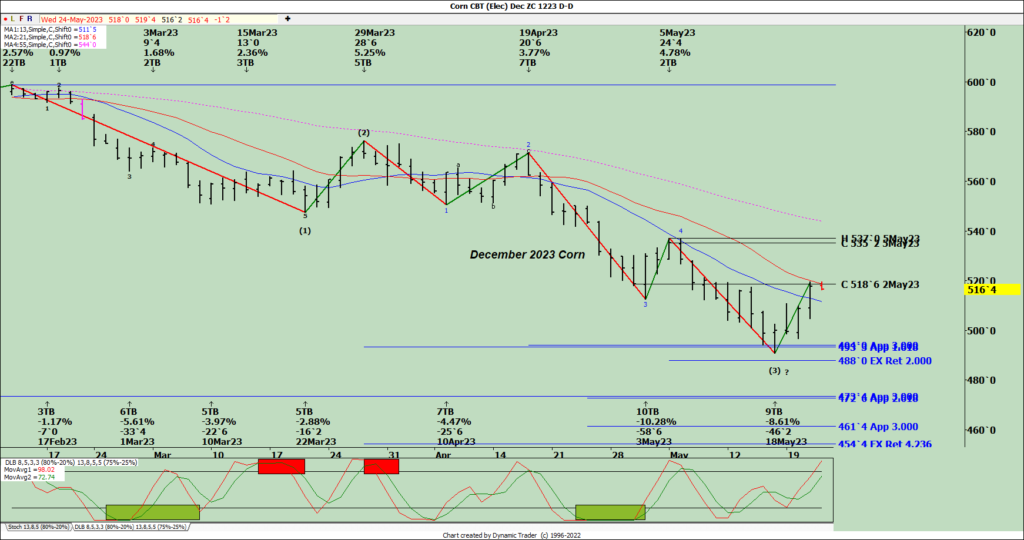 Soybeans
The positive action in grains did not spill over to beans yesterday, nor have the bulls found any inspiration overnight.  At this point, July futures appear to have settled into a range between roughly 13.50 and 13.00, and we have little to suggest which direction we may extend out from.  Oscillators are pointed higher so bulls may have a slight upper hand.  After today, the next cycle counts line up on the 2nd and the 13th of June.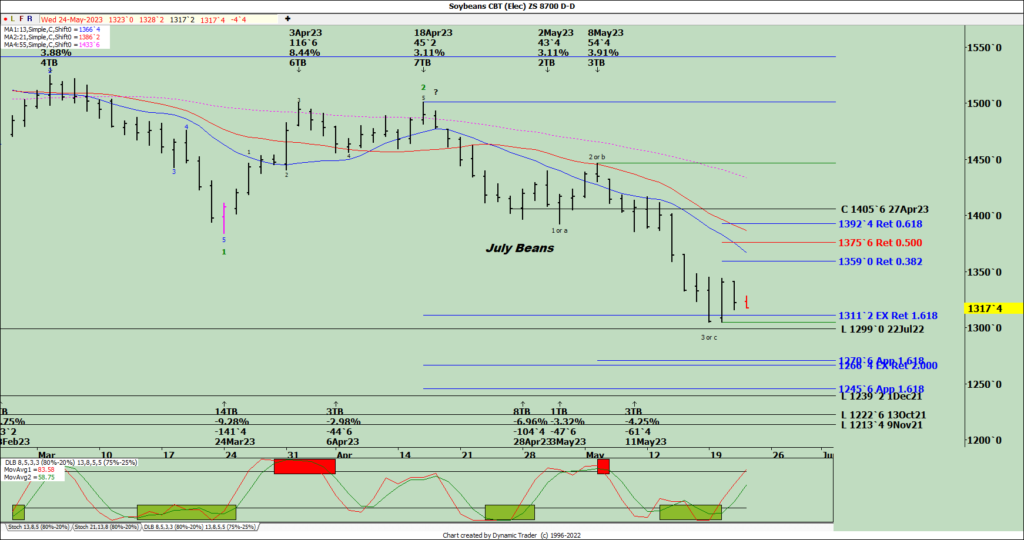 November beans stumbled as well yesterday, with the pressure now extending into the evening hours.  We have not pressed into new lows for the year as of yet but appear headed in that direction.  If we slip and close beneath 11.72, the door should open for a quick trip down to 11.50, which on the weekly chart would complete a major 3rd wave objective.  The next cycle counts line up between the 2nd/5th of June and will complete a full circle/cycle (360 calendar days) from the peak last June.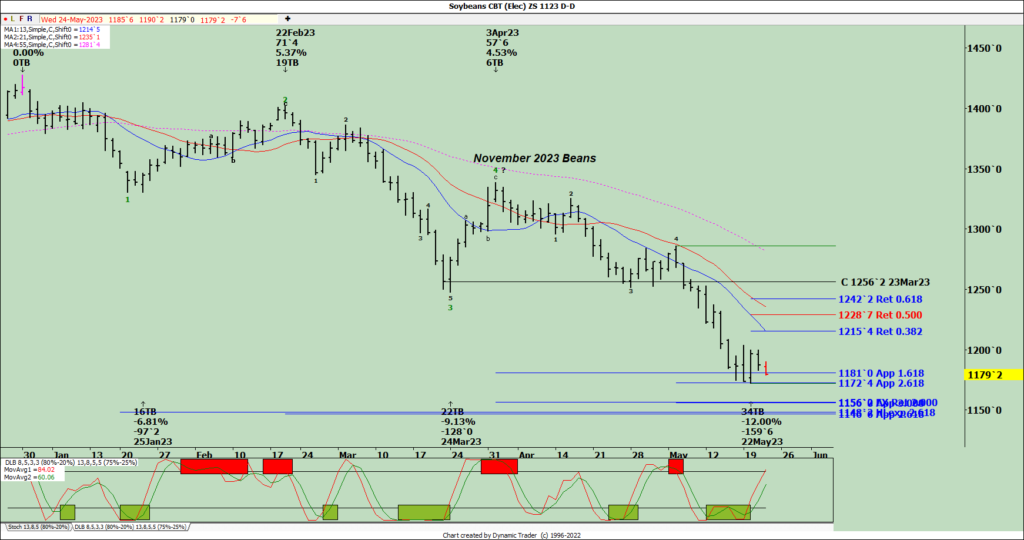 Soy Oil
July bean oil's recent attempt at a rally appears to be fizzling out without even quite making it to the 38% minor retracement.  Oscillators are overbought and teetering on the edge of turning lower, and once they have, we should be in store for several days of pressure.  If that will lead to lower lows is yet to be determined, but the potential exists.  The next cycle count lines up for the 31st.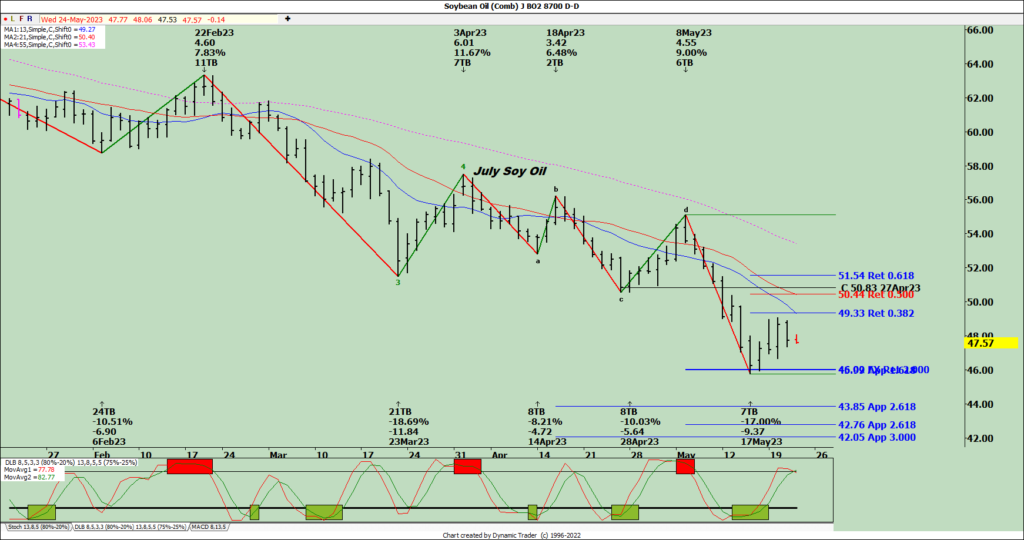 Soy Meal
July meal has recorded lower lows for seven sessions in a row, and it is creeping ever closer to the 400 level.  Oscillators are oversold, but stochastics continue to point lower, so the path of least resistance remains to the downside.  While 400 could psychologically provide support, the next measuring targets I have sit between 391.40 and 386.70. The next cycle counts line up for the 2nd/3rd.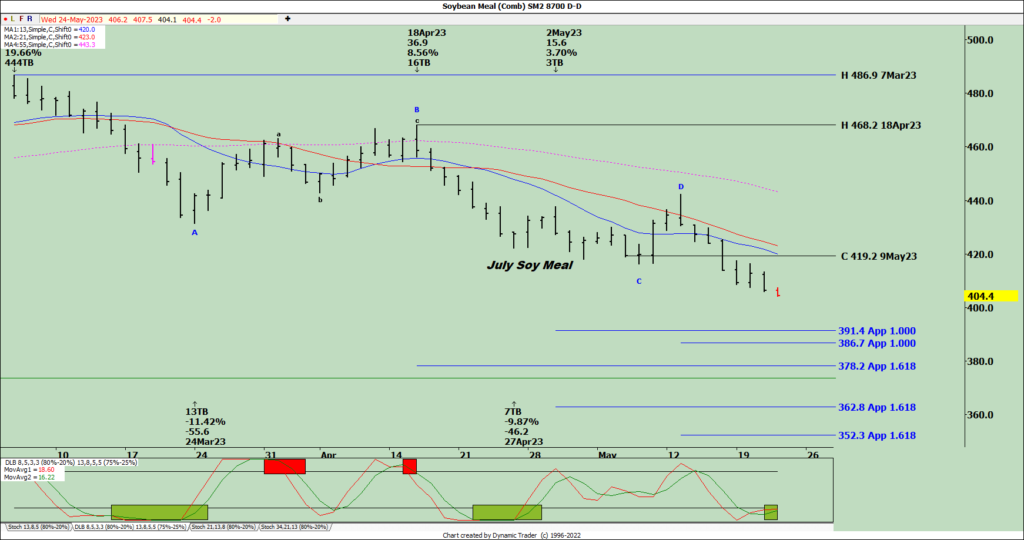 Cotton
With the overnight pressure, December cotton has extended lower for the third session in a row and has nearly completed a 62% retracement of the last swing higher.  Oscillators are quickly racing back to the oversold zone, so this swing could soon be exhausted, but I suspect the entire break will unfold in at least an A,B,C pattern lower, and this would only count as A.  The next cycle counts will be on the 1st/2nd.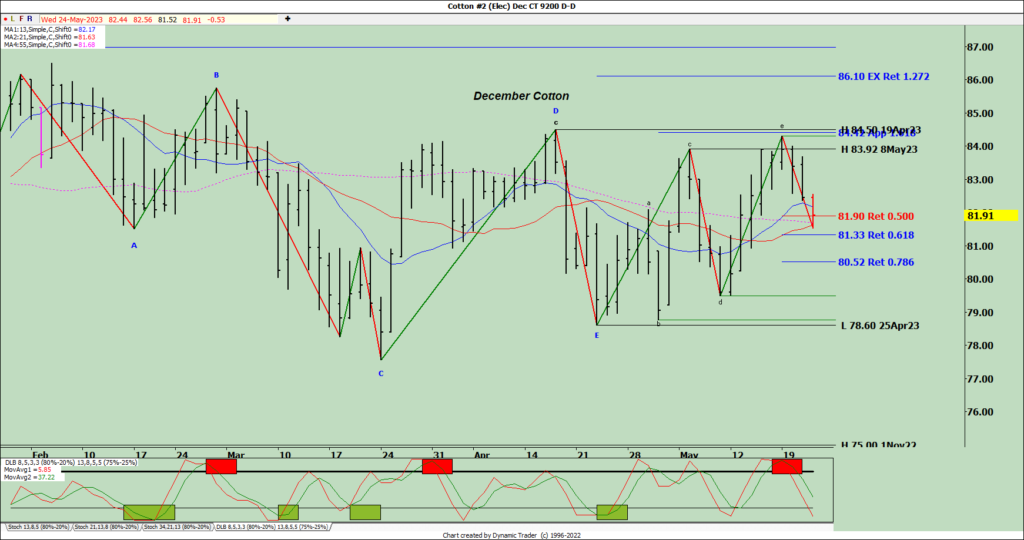 Lean Hogs
Lower lows for June hogs again yesterday, with no sign that the bears have had their fill as of yet.  We have reached our next target zone between 80.50/80.00, and oscillators have reached the oversold zone but continue to point lower.  The next targets to the downside sit between 77.60 and 76-cents.  The next cycle counts line up for the 2nd and the 14th.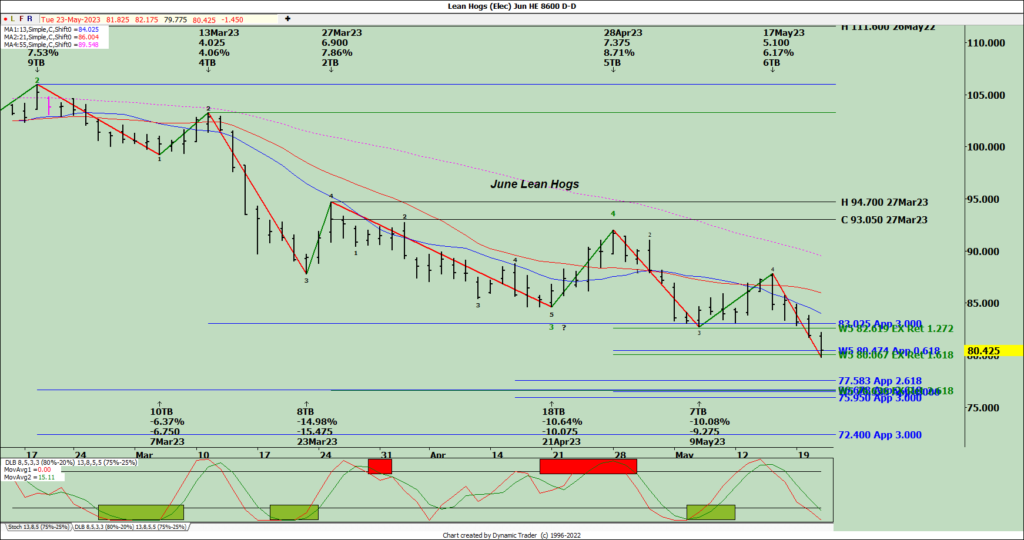 Live Cattle
Outside lower reversal in June cattle yesterday, and it would appear that we have marked at least another short-term high.  Oscillators have turned lower, and we should be in store for at least 2 to 3 days of pressure.  Of course, unless that develops into a push and close beneath 161.35, it will amount to little more than some type of complex correction and will leave the bulls in control.