By: Dan Hueber –
The extended holiday does not appear to have diminished the positive enthusiasm that grain/soy markets have been experiencing since the USDA released the final production and supply/demand estimates last week.  Granted, the buying interest has really been concentrated in beans but the rising tide appears to be lifting all the boats for now and corn and wheat have been tugged up against key overhead resistance levels.  It would appear that at least a portion of the strength in beans is being stimulated by increasing concerns about growing conditions in Argentina.
Recognize that in South American this year, we seem to have a "A tale of two cities" when you compare the conditions between Brazil and Argentina.  According to Dr. Cordonnier, while both nations have been wet, Brazilian crops are far enough along and remain in solid shape that it has not created any issues and in fact he is considering raising the estimate for that nation.  Argentina is another story though.  Ongoing excessive rains have created additional flooding, which he estimates may have now wiped out upwards of 2 million hectares or around 10% of the soybean production.   He has lowered his bean production estimate by 4 MMT to 51 MMT and his corn production estimate .5 MMT to 34 MMT.
There is another commodity that appears to be suffering a short fall in production and this could be one that will impact many of our pocketbooks. For the third year in a row, production of Robusta coffee has declined and has fallen to the lowest output since 2012.  Recognize that Robusta is considered a lower grade coffee and is used to make instant coffee or is blended with the higher quality Arabica coffees, which ironically have witnessed record production this past year.  Regardless, the International Coffee Organization is predicting a supply shortfall of 3.5 million bags for the marketing year that began in October.   Prices for Robusta coffee currently stand around 43% higher than a year ago but the large Arabica production has tempered the overall advance in wholesale prices.  Regardless, JM Smuckers who manufactures such brands as Folgers and Dunkin Donuts have announced they will raise prices by an average of 6%.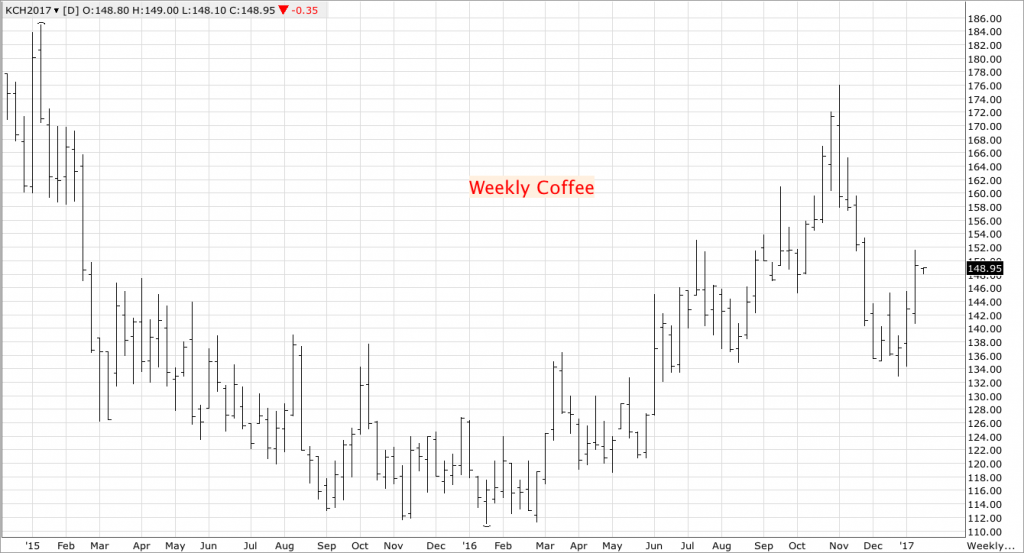 Macros lean positive as we begin this new week with energies and gold higher, and equities and the U.S. Dollar lower.  As I commented initially, corn and wheat are higher but are looking just a bit top heavy as well as pressing against key resistance but soybeans, even though they are quickly approaching the Nov/Dec reaction highs, appear to show no sign of exhausting just yet.