By: Dan Hueber –
The advance in grain and soy markets appears to have tempered just a bit overnight.  At this point, the weakness is rather insignificant, particularly in lieu of yesterday's gains and appears to be little more than a Tuesday (or in this case Wednesday) undo day.  Note that yesterday March corn posted the highest close since the 27th of October, March beans at the highest settlement since the 13th of July and March wheat the loftiest finish since the 2nd of November.  While I do expect this current advance to exhaust before the end of this month, it is nevertheless encouraging to see it unfold in face of generally less than positive news and more importantly, it is providing us additional confirmation that the overall commodity picture is turning more positive and particularly in the Ag's.
Broad based commodity indexes have gained additional ground since we have moved into 2017 and some of the most impressive gains have been centered in Ag.  By no means a runaway advance but the DB Ag ETF has been tracking consistently higher for the past couple weeks, pushing to the highest level since August and if we can hold at least stable through the end of this week, should post consecutive closes above the 55-week moving average for the first time since mid-July.  This is not to say that the path forward will be without potholes and peaks and valleys but the overall action very much looks like a marketplace that is reversing into a higher course.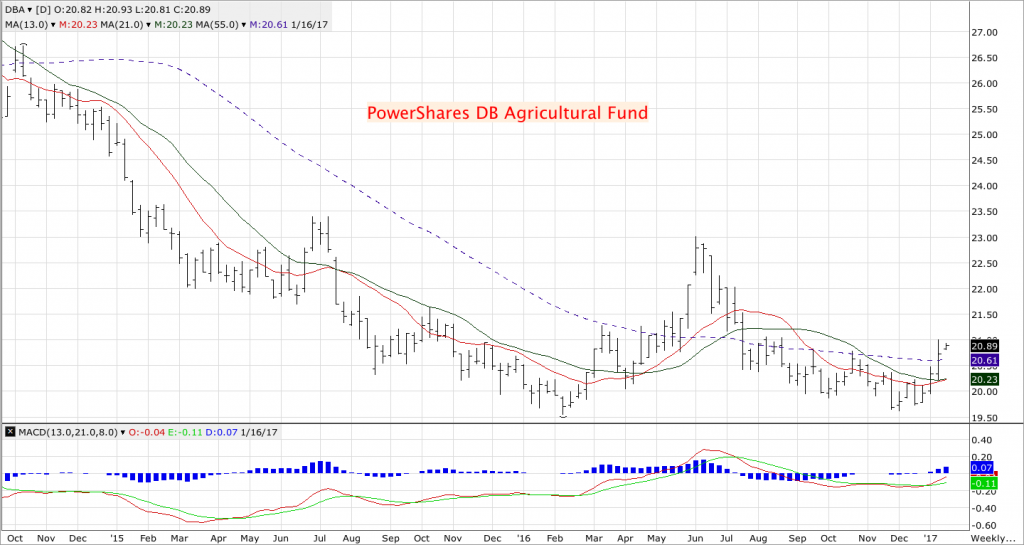 At the other side of the spectrum and one that should not be disregarded is the action we have now witnessed in the US Dollar over the past several weeks.  After reaching to the highest mark traded in 14 years on the very first session of 2017, prices have been defensive and this week pressed back below the 2015 peak.  Possibly more critical is the fact that weekly indicators had reached into the most overbought level witnessed since early 2015 and have now crossed lower.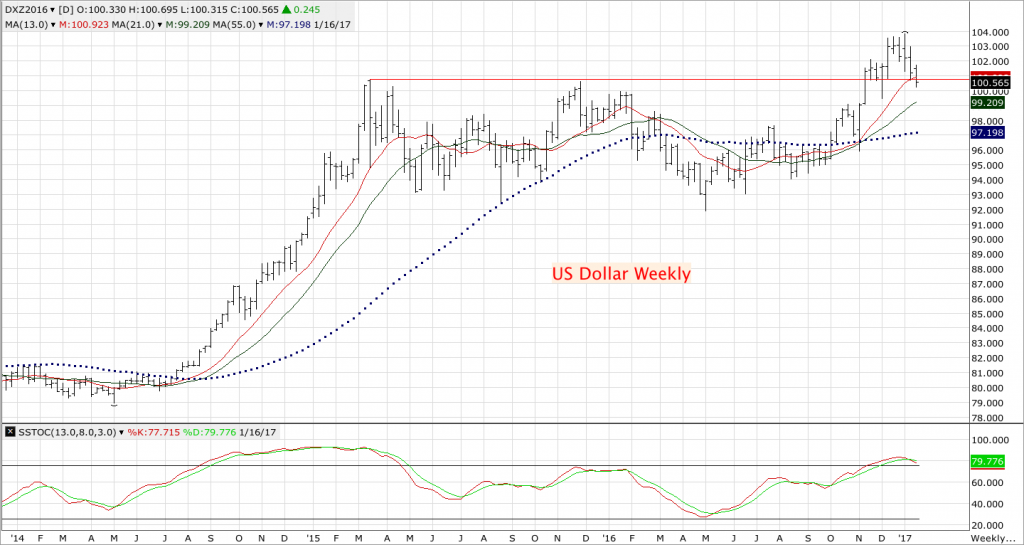 While it would be very premature to claim any kind of victory, as I commented a number of weeks back I believe we should experience the reversal of fortunes for a number of markets in 2017.  Bulls (equities and the dollar) should turn into bears and Bears (specifically commodities) should become bulls.  By no means for we in Ag does this imply that we should become complacent but at least for now I believe we can be a bit patient and allow markets to work in our favor.