While we do have a little export and weather news to talk about to begin this week, there can be no doubt there is one news event that stands out above all others that the trade is focused on this week; Kanye and Kim's reported rumored split.  Just kidding, of course, as such news should be ranked somewhere below the story about a woman upset that the neighbor's dog left a pile of do-do on her lawn, but I guess such information is vital to some.  For the ag world, everyone is waiting with bated breath for the annual production and supply/demand and grain quarterly grains stocks reports to be issued tomorrow.  While these numbers are always important, in a time when markets have been on a six-month race higher and sit in a very overbought position, all the more so.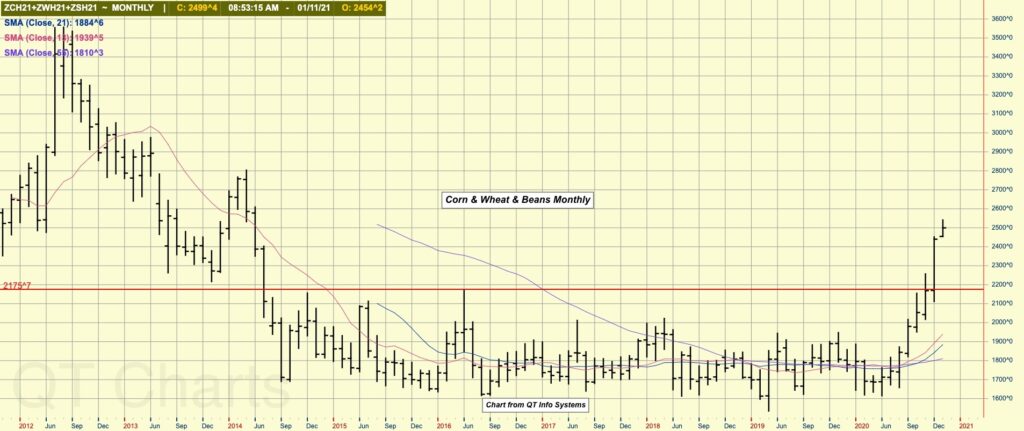 Here again, are the trade estimates; Domestic corn production is expected to come through at 14.47 billion bushels, derived from 82.54 million acres and a yield of 175.3.  Bean production is estimated to fall in at 4.158 billion, coming from 82.3 million acres and a yield of 50.5.  The projected carryout for corn is 1.599 billion, for beans 139 million, and 859 million for wheat.  Total winter wheat seeding is projected to come in at 31.528 million, broken down with 22.14 Hard Red, 5.884 Soft Red, and 3.5414 White.  For South American crops, Brazil beans are expected to total 131.42 MMT and corn at 107.74, with Argentina at 48.44 MMT of beans and 47.41 MMT corn. World ending stocks are estimated to total 283.53 MMT for corn, 82.66 MMT in beans, and 315.37 MMT of wheat.  Finally, for the December 1st grain stocks, corn is expected to come in at 11.747 billion, beans 2.929, and wheat at 1.696.
The large spec love affair with corn extended another week but at a slightly slower pace.  It was a holiday-shortened affair, after all.  For the week ending, they added 17,981 contracts to the long side, bringing their total up to a whopping 395,617 contracts.  They were a bit more mixed in other markets as they purchased 8,486 contracts of Chicago wheat, sold 1,055 KC, sold 9,728 beans, bought 2,856 oil, and sold 5,085 meal.  They were buyers of 3,828 contracts of cotton and significant buyers in sugar, adding 29,220 contracts.
It would appear that rains were a bit better than expected in both Brazil and Argentina over the weekend.  As always, not every field received moisture, but the outlook for the next couple of weeks looks crop-friendly as well.
We do have a couple of export sales to kick off the week as well.  The USDA reports that 108,500 MT of corn was sold to Colombia and 132,000 MT of beans to China.
Looking at the macros, we find energies soft, metals higher, financial instruments and equities higher, and possibly most interesting, the dollar sharply higher.  For now, we need to bide our time for another roughly 24-hours and wait to see what Uncle Sam may have up his sleeve.  And maybe we will know more about the fate of the West's as well.