By: Dan Hueber –
What began as a promising looking week for bulls in the grain and soy markets, appears set to end with a bit of a sputter. I would not classify the action as bearish per se nor did I really expect significant follow-through in corn and wheat but I guess it is just human nature to always want just a bit more. Keep in perspective, this does not mean that we will not have posted gains for a second week in a row for corn and beans at least.  If we were to close right now March corn would be up over 6-cents, March beans 16-cents but March wheat would have surrendered 4-cents. I have to suspect that an inauguration bounce in the dollar overnight has weighed on these markets.
While corn and wheat appear to be giving us signs of exhaustion and a reaction top, the bean market is the one that could still potentially provide a few more fireworks before the show fizzles.  This week we have already pushed and closed above the December highs and have daily indicators continuing to point higher and realistically, this is the one market that had an underlying positive influence with the ongoing wet/flooding conditions in Argentina.  Nothing says that needs to translate into higher highs from here but the door remains open a crack for the opportunity. All that said, it would not appear to be time to become overly greedy.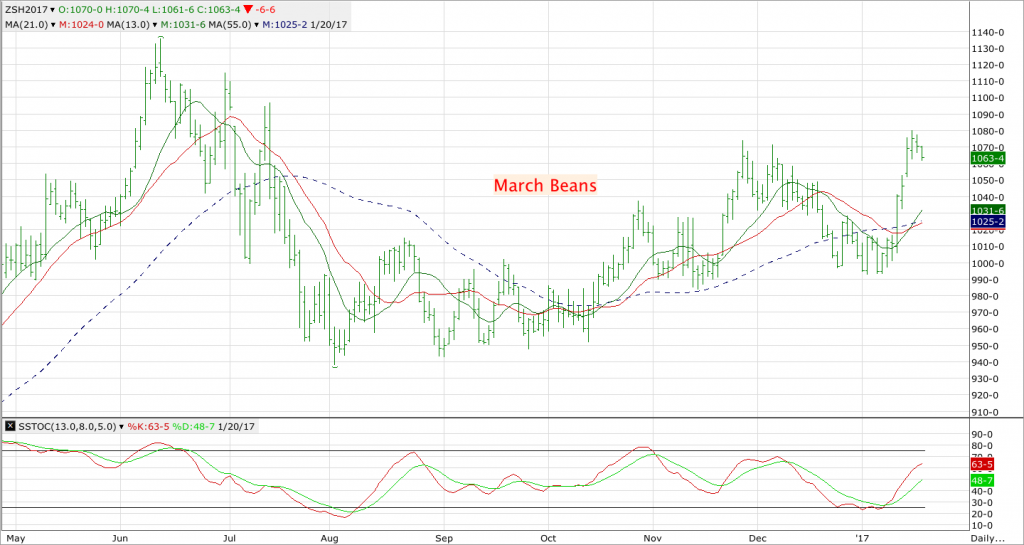 The final story for this week pertains to a commodity that most all of us have become very accustomed to eating but could become less available or at least more expensive if NAFTA is dismantled; Avocados.  There has been talk from the incoming administration that a 35% import tax could be slapped on this little green fruit, which of course has growers in Mexico ill at ease.   It is interesting to note that prior to NAFTA, imports of avocados from Mexico were completely banned but since that was lifted in 1993 the per capita consumption has gone from less than 2 pounds per person to nearly 7 pounds.  You might want to savor that next scoop just a bit more while you are watching football games this coming weekend.