By: Dan Hueber –
Grain markets have held at least semi-stable to begin this new week, with wheat even scratching out minor gains. The one market that you could say has actually received supportive weather news as of late, i.e., beans is struggling just a bit.  While it is not that that conditions in Argentina have returned to ideal as even if rains begin to fade it will take some time before farmers can return to fields, assuming it is not too late, but the forecast does call for dryer conditions for at least the next week or so.
I believe there would be little argument in saying that the most impressive performance in the grain/soy complex last week was provided by the corn market.  The late surge on Friday took March futures up just over 11-cents for the week and to the highest trade and close since July of last year.  We have not been able to extend the strength so far this morning but neither have we surrendered much.  This would appear to have us positioned for an attack at the 38.2% retracement that sits just overhead at 3.74 but keep in mind that we could be stretching into the outer limits of what may be realistic for this time of the year.  Note that the daily indicators are into the overbought zone and we are sitting right on top of solid cycle counts.  At the outside, there could be potential to sustain the advance into the first week of February but beware of the dreaded "February Break".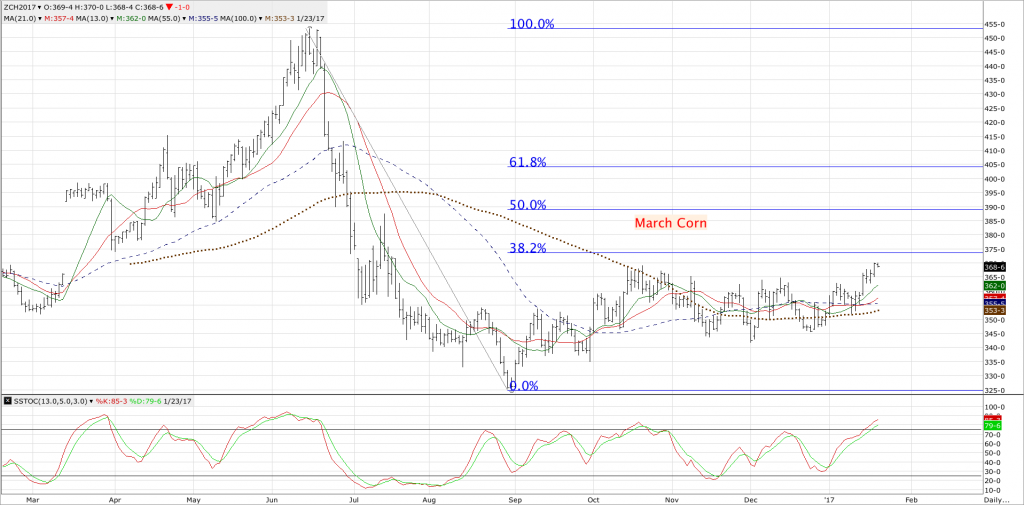 There is not a tremendous amount of feature in the macro scene this morning as we have energies struggling a bit lower but metals higher.  The strength in the latter though could be in response to decent pressure in the U.S. Dollar as the world anxiously awaits for preliminary signals as to how the Trump era will begin to reveal itself.  From a purely technical standpoint, the dollar index appears to have rolled over into a sell.  Markets are generally not overly patient and unless the new administration comes up with something concrete that is viewed as positive for the US economy, I suspect we could have a gaggle of disappointed bulls ready to head for the exits.  Needless to say, were that to be the case it should be a positive influence for we in the commodity world.