By: Dan Hueber –
The crude oil market is off to somewhat of an inauspicious start here in 2017.  It is not that prices have actually done anything that could be regarded as negative but neither have we been able to extend the gains witnessed into the end of last year.  The highest close of the year thus far occurred during the very first week of January, which in fact was the highest weekly close posted since June of 2015.  Since that date, the market has basically been adrift, searching for a new current to provide direction once again. It is not that OPEC in not trying help and according to their own data, they have already reduced output by 1.5 million barrels per day of the 1.8 million that was agreed to be cut back but realistically, that is little more than a verification of old news, not something fresh.  The problem then is that investment money had already flowed into the markets in anticipation.  Hedge fund and institutional investors are now holding the largest long position in the various crude markets since 2014, which begs the question as to where the next investment dollars will come from unless the market can uncover a new bullish slice of information to cling on to.  Looking this market from a purely technical standpoint, we are as overbought as we were last summer at the highs and potentially ripe for a correction lower. By no means would I expect that to turn into any kind of rout to the downside but defensive action there would be a drag on the overall commodity indexes and could tend to keep investment money on the sidelines for several months yet.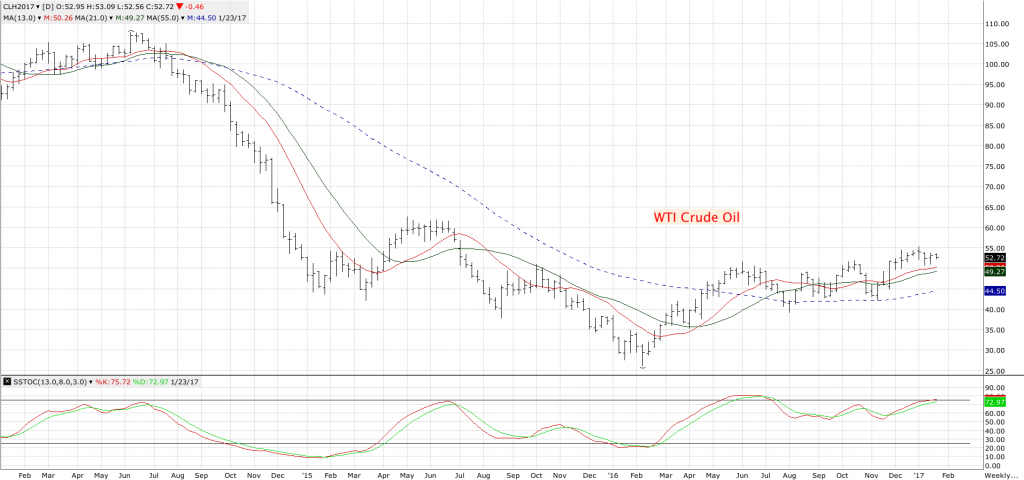 Informa released an updated acreage projection yesterday, projecting a 3.7% cut in corn taking it to 90.5 million and 6.2% increase in beans ending up with a projected total planted of 88.6 million and a 6.7% bump higher in cotton as well to 10.5 million.  If correct, in raw acreage figures this would be a 3.5 million acre cut in corn, a 5.2 million acres increase in beans and a 430 million boost in cotton.  The biggest loser (no reference to the TV show) is wheat, which the USDA baseline projections that were released last month have already taken down to 48.5 million acres. This would be down just a couple million from last year but has been in steady decline since the 2008/09 crop year when we planted 63.2 million acres.  The official USDA acreage number will not be released until the end of March but the annual Agriculture Outlook Forum will be held on the 23rd/24th of February at which the statistically derived baseline numbers are announced. Anymore this figure seems to carry as much market weight as the later estimates.
As I commented yesterday morning, the action in the corn market at that time was looking just a bit ominous and indeed, we posted an outside lower reversal in not only corn but nearby wheat as well. While the follow-through this morning is not severe, that action would appear to have confirmed that we have a reaction high in place and potentially sets us up for a downward corrective swing in the month of February.