By: Dan Hueber –
It would seem that the story that trumped (pun intended) all others yesterday was the historical rally in the Dow Jones Industrial Average, which after weeks of flirting with the psychologically important 20,000 mark, finally punched through and even closed above that benchmark.  The "business-friendly" rhetoric that is coming from this new administration has continued to inspire bulls in the equity trade who evidently are trying to position themselves for possible gains as proposals to remove more and more roadblocks on the financial growth highway are offered.  Although we often refer to commodities as the "futures" market but in reality so is the equity trade and investors are always in the process of trying to anticipate what will be worth more in the days, weeks or years ahead.  Of course, as we all know too well, there is no guarantee that we can get that right and markets become over or undervalued and I remain in the camp the believes we are reaching farther and farther into the former of those two categories.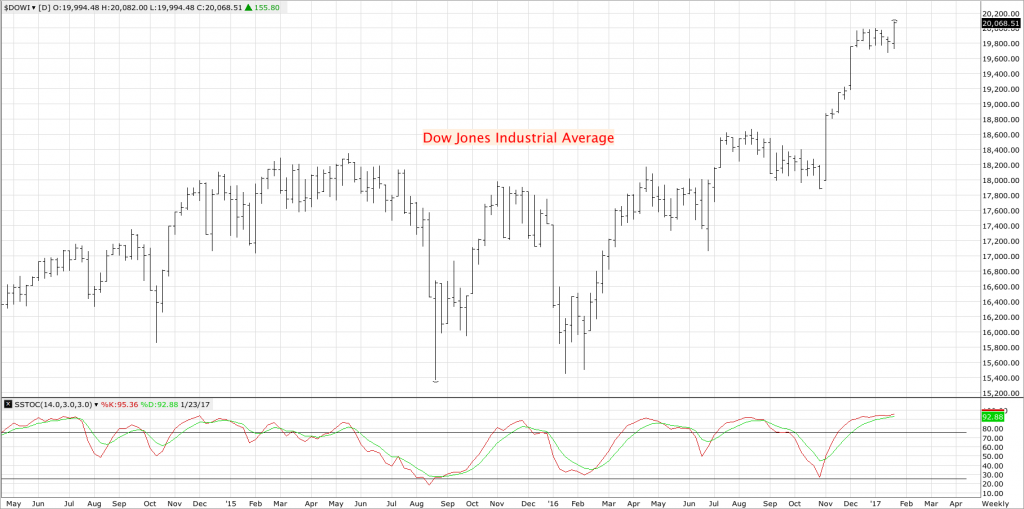 I have not been able to say this very often but export sales last week for grains were very solid but not quite as exciting for beans.  The biggest surprise came in wheat where we sold 853,400 MT or 31.36 million bushels, which set a marketing year high.  Top sales went to unknown destinations with 212.3k MT followed by Morocco with 210k and then Indonesia with 140k.  Corn sales were just 2% ahead of last week but that is still a solid 1,370,400 MT or 53.96 million bushels.  This is 63% ahead of the 4-week average and the top sales were made to unknown destination taking 358k MT, followed by Japan at 292k and Columbia with 171.8k.  Considering that for beans we have already sold 89% of the USDA target of 2.05 billion bushels, with 32 weeks left in the marketing year and sitting 30% ahead of the same time last year, it is difficult to call the sales bad, but as I mentioned a few weeks ago, after months of 1MMT + weekly sales, it still takes a little getting used to when they are not at there.  Last week we sold 539,400 MT or 19.82 million bushels. This was 45% below the previous week and 10% below the 4-week average.  China was back in the number 1 position taking 351.5k MT, followed by Mexico with 167.8k and then South Korea with 156.3k.
Last but not least I came across a story this morning that ties into something I wrote about earlier in the week and is something that we in the ag industry need to remain abreast of.  While you may or may not have heard this but back in December one the individuals that Donald Trump recruited as a special advisor on regulatory reform was famed billionaire investor, Carl Icahn.  Mr. Icahn is the majority investor (82%) of a holding company named CVR Energy whose main business is petroleum refining and has also been a very vocal opponent of biofuel mandates and the use of RIN's. The combination of the appointment of Scott Pruitt as head of the EPA and the naming of Icahn as special advisor for regulatory reform, has evidently scared the daylights out of RIN bulls and we have seen their values drop by more than half. Those in the industry have labeled this the "Icahn-Pruitt-Trump Trade."  In turn, since the election, shares of CVR Energy have doubled in value.  As I commented earlier, markets are often just a reflection of what traders believe will happen and those beliefs can often be wrong or at least can get a bit carried away.  Regardless, with 36% of our total corn usage accounted from the ethanol industry, we can ill afford to assume everything will remain as is.