I did a Google search for strange things that wash up on beaches, and most of the items that came up did not seem really strange at all.  Jellyfish, giant squid, driftwood, whale bones, and of course, entire beached whales at times.  Sure, there were are few oddities, such as a shipwreck or a message in a bottle, but even those would not be entirely unexpected.  So, you can imagine the surprise in Taiwan this past week when a dead hog floated ashore, and then no doubt a bit of anger when it was confirmed the carcass tested positive for African Swine Fever. Now, there is probably no way to prove without a doubt that this pig began its sea journey in China; it is just a bit more than 100 miles across the Taiwan Strait, but the testing did confirm it was infected by the same strain of ASF that is currently found in that nation. What may be just as surprising is that the recently reported outbreaks in China have been in the north and northeast of that country.  Understandably, the Taiwanese government has placed restrictions on the movement of hogs in the area where the pig came ashore for the time being.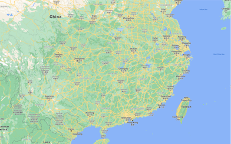 Possibly, concerns about another outbreak of ASF in China are being overblown, but herein lays the problem, it is difficult to get the complete picture.  According to a report in Reuters, 20% of the breeding herd in northern China have already been lost to the disease, and there are fears that it could be spreading south.   One might assume that were a number of measures put into place to curtail the spread if another outbreak occurred, and no doubt they were. Still, as we have reported in the past, as operations have rebuilt over the past two years, the numbers have become even more concentrated on mega-hog farms.  If you recall, late last year, I wrote about a facility that was being constructed by Muyuan Foods that will eventually house 84,000 sows and produce 2.1 million market hogs per year.  While not at that capacity yet, this facility happens to be in the Henan province, the third-largest hog-producing province in China, and coincidentally, where the current outbreak has been.  Needless to say, this could have a significant impact on both the feed markets as well as hog markets in the months ahead.
NASS released the first crop progress report of the season and estimate that as of Sunday, corn planting stood at 2% complete, which is the same point we were a year ago as well as on top of the 5-year average.  Sorghum planting has reached 14% complete, which is right at average as well and cotton stood at 6%, compared to the average 5%.  Winter wheat was rated 53% good/excellent, compared with 62% last year at this time and 4% of it was headed, which would be 1% ahead of average.  Spring wheat planting was estimated to be 3% complete and barley 5%.
In the Southern Hemisphere, AgRural estimates that 78% of Brazilian beans have now been harvested, which is right at the average for this date and the planting of safrinha corn is finally complete.  Soybean harvest in Argentina is lagging behind with just 1% complete, compared with nearly 10% on average and corn harvest reaching 8% versus an average 19%.
According to the International Monetary Fund, global economic prospects are looking better all the time.  According to their update published this morning, they expect to see 6% growth worldwide this year, up from 5.5% on their previous forecast.  They bumped the U.S. projection to 6.4% from 5.1% and China to 8.4% from 8.1%.
We have the first survey estimate for the April supply-demand report that will be released this coming Friday.  According to Bloomberg, the trade is expecting to see a corn ending stock figure of 1.379 billion, soybeans at 118 million and wheat 846 million.
Finally, this morning, could your next landlord be Bill Gates?  According to The Land Report, Cascade Investments, LLC, which is owned by Bill and Melinda now holds the title of the largest farmland owners in the United States, with 242,000 acres.  Actually, their total land holdings add up to nearly 269,000.  While I have not read his latest book, How to Avoid a Climate Disaster, I understand he is a strong proponent of sustainable farming practices as well as faux meat products.  Maybe he is on a mission to implement these changes one farm at a time, or maybe he is just following the wit and wisdom of both Mark Twain and Will Rogers who said, "Buy land, they're not making it anymore."