With bean harvest in Brazil not quite 80% complete and the planting of the safrinha corn just complete, it might seem a bit premature to begin discussing next year's crop potential, but that is precisely what the US attaché in the country has done.  As they say, dogs have to bark, bird have to chirp, and economists have to make statistical forecasts.  For the 2021/22 crop year, they are projecting a bean production number of 141 MMT and corn at 114 MMT.  This compares with their estimates for the current crop year of 134 and 105.  There is certainly nothing outlandish in these numbers, and economically, they should have more than enough incentive to push production higher. Still, of course, as we all know, the best-laid plans often go awry (Thank you, Robert Burns).  Without even considering the weather or what markets might do between now and their next spring season, it is worth pointing out the position of the Real.  This currency is currently trading down towards the low watermark for the past year, which also happens to be a record low, but has really just been tracking sideways for the past year and, if anything, appears to be positioning itself for a swing to the upside.  One can argue just how extensive any rally may be, but any reasonable advance over the next four to five months should take some of the incentives away to expand acreage.  Working against any significant rise in the Real, though, could come from the ongoing health issues that the nation is confronting and, of course, how that may play out in upcoming political elections.  They have never gotten the spread of Covid-19 under control, and I read that the daily death toll has now pushed north of 4,000 per day for the first time.  The situation was described by one Brazilian doctor who teaches at Duke University as a "biological Fukushima."  In a country with a seemingly fragile political situation that less than forty years ago was still a military dictatorship, and a general election scheduled for 2022, this does not seem to add up to a stable outlook.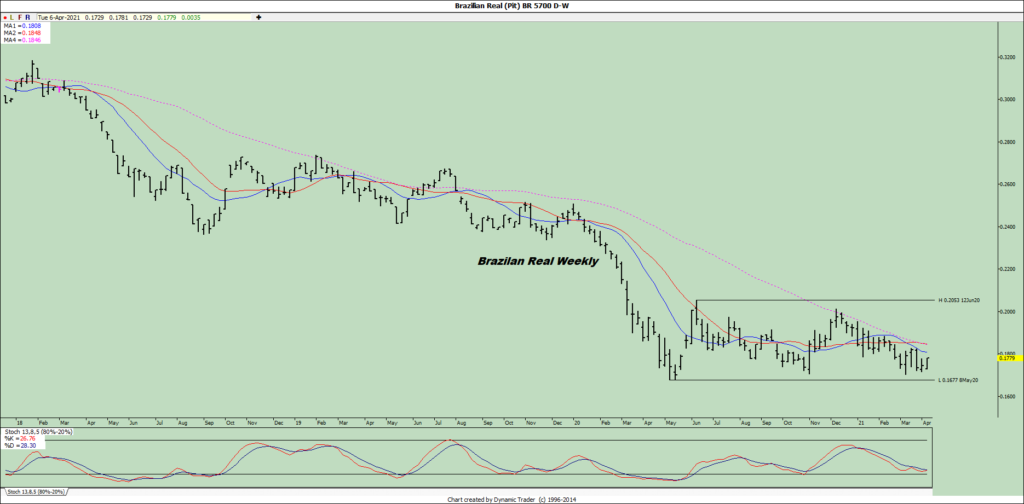 As it has turned out, other than lifting new crop corn and beans into slightly higher highs, last week's BIG government reports were not stunning enough to shake us from our three-month range confinement, and it is doubtful that the production and supply/demand reports to be released this coming Friday, will be either.  Regardless, here again are the trade estimates; Domestic corn ending stocks are expected to be reduced to 1.396 billion bushels, beans at 119 million and wheat at 846 million.  The average estimate for South American crop have Brazil at 134 MMT of beans and 108.3 million corn, with Argentina at 46.6 MMT of beans and 46.6 MMT of corn.
As a follow-up on yesterday's letter, Taiwan has officially confirmed its first case of ASF.  They also noted that there have been hog carcasses that have washed up on other islands around Taiwan as well.
Finally, this morning, a bit of economic news.  During February, the U.S. imported $258.3 of goods/services, which was a .7% decline from January.  On the other side of the ledger, we exported $187.3 billion of goods/services, which was a decrease of 2.6% and was the first decline since May.  Simple math would tell us this equates to a trade deficit of $71.1 billion, which is an increase of 4.8%.  Economists were expecting a number around $70.5 billion.  Supply chain disruptions and winter-weather were blamed for the slippage, but one has to suspect that the general rise we have witnessed in the U.S. dollar since the beginning of the year could be having an impact on the numbers as well.