For weeks, if not months, it seems, I have been grousing about the corn markets' inability to press into higher highs.  Enormous purchases by China, later than normal planting progress for safrinha corn in Brazil and less than ideal weather in Argentina, and then last week, generally positive supply and acreage news from the USDA, but none of these appeared to provide enough, to sustain a push into higher highs.  In fact, during the past week, bulls spreads seemed to be coming apart, and it was beginning to look as if the bulls were ready to concede that enough was enough.  That is until this morning at least, where out of the blue, we have another surge in nearby corn and bull spreading has returned.  It would appear that at least part of this can be attributed to the pricing of previous corn sales, so the question now remains, can we hold the strength this time around?  It is interesting to point out that the level at which we have been capped for the past eight weeks is right at the 50% retracement of the entire range since the 2012 peak.  Technically speaking, if we can begin to post weekly closes (preferably consecutive) above this 5.72 level, we will have opened the door for a run at the 62% retracement of 6.36.  One has to suspect that the supply/demand report to be released tomorrow could influence whether that is realistic or not.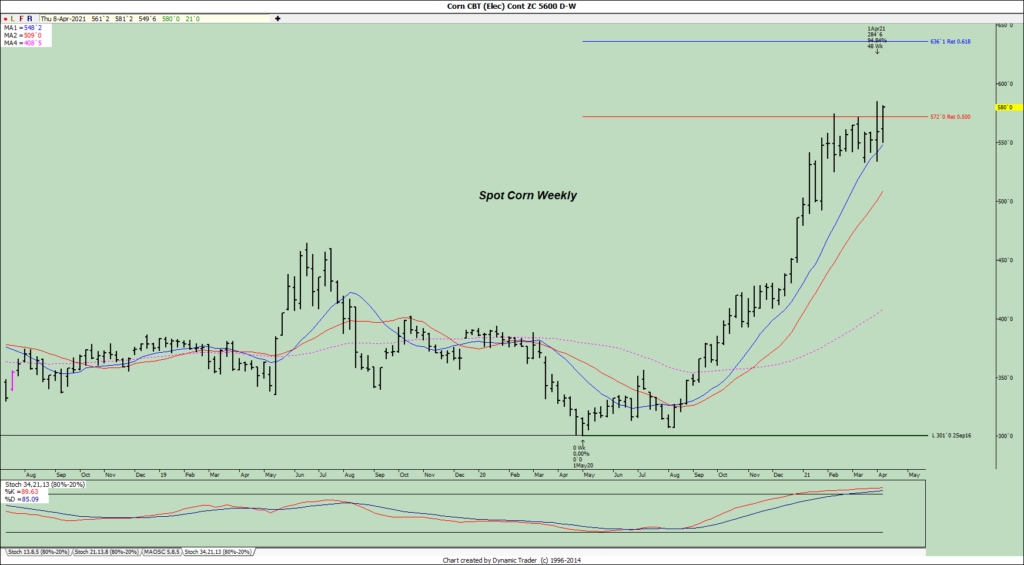 As we await the release of those numbers, here again are the trade estimates.  Domestic corn ending stocks are expected to be reduced to 1.396 billion bushels, beans at 119 million, and wheat at 846 million.  The average estimate for South American crops has Brazil at 134 MMT of beans and 108.3 million corn, with Argentina at 46.6 MMT of beans and 46.6 MMT of corn.
Conab released updated estimates for Brazilian production this morning, showing slight increases all around.  They have total corn production now at 108.97 MMT, compared with 108.07 previously, and beans at 135.53 MMT instead of 135.13.
Weekly export sales continue to drift seasonally lower, and for beans and wheat, we set marketing year lows. For the week ending April 1st, current crop year beans sales dropped into the minus column, with a negative 92,500 MT or 3.4 million bushels.  China canceled 216k MT.  For the 21/22 crop year, sales totaled 338,600 MT or 12.4 million.  China bought 78% of these.  Corn sales slipped 5% for the week but were still not terrible at 757,000 MT or 29.8 million bushels.  Japan was the top buyer with 285.3k MT, followed by South Korea taking 247.6 and Colombia in for 122.2k.  Sales for the 21/22 crop year were just 50k MT. Current crop year wheat sales dropped to 82,000 MT or just 3 million bushels, but new crop sales were solid at 529,900 or 19.5 million bushels.  49% of these or 260k MT were purchased by China.  Pork sales were down 45% for the week, coming through at 33,400 MT, and China was a purchaser of just 1,200 MT.
Looking at the macros this morning, we have energies under pressure, metals higher, with gold pushing I the highest point since late February.  Financial instruments are a tough higher, and the S&P 500 has reached into new record highs yet again.