By: Dan Hueber –
I guess all good things must come to an end.  After closing higher for the past four weeks in the wheat and corn market and the past two in soybeans, it would appear we are set to finish on the negative side of the ledger this week.  If we were to close right now, March corn would be down nearly 6-cents, March beans would be 18-cents lower and March wheat just shy of 2 cents.  All in all, this was still not a terribly discouraging start for a new calendar year but seeing there was little in the news that would suggest it was much more than a technical correction, it is not surprising to see the advance begin to sputter.
Over the past year we have looking at broad based commodity index charts as well as ag specific ETF's which all appear to have suggested the we have a cycle low in commodities and are setting the stage for additional recovery in the months ahead but have you ever wondered what it would look like if we just zeroed in on the three key commodities that we talk about every day; corn, beans and wheat.  Well, wonder no longer. This is a monthly closing price snap shot of the combination of spot corn, beans and wheat reaching back to the beginning of this century.  I am sure it comes as no surprise to see that the combination of these three markets peaked in 2008, which was really the frantic bubble year for so many commodities, with a secondary but lower peak during the drought of 2012.  As many of you are painfully aware, prices have generally tracked lower since 2012 until finally reaching down to test and play with what appears to be a base trend-line the originates from the early century lows.  While I cannot sit here a conclusively say that we have signaled a complete turnaround in these markets, there are a couple encouraging developments that I believe do point towards better days ahead.  The most obvious is the extremes that we reach down to, and particularly if you factor any inflation into the picture, we should be at a place of value.  While that alone is not enough to suggest we must rally to any extent but it should say there is very limited downside risk and if there is investment money that is on the search for value, they will have a difficult time finding much better.  Second and just as important is that over the past 12 to 18 months we have seen the descent slow down and the pattern turn into one of more sideways, which again is typical when commodity markets are in the bottoming process.   It is encouraging that the combination prices have already this year pushed through the 4th quarter of 2016 reaction highs but for the near-term at least I do not hold any illusion we can keep a rally alive much longer unless South American weather really takes a turn for the worse (or the dollar experiences a shocking collapse).  Regardless, I believe the balance of the 1st quarter of this year should be marked by additional sideways grind but the stage should then be set for upward excitement as we move into our growing season.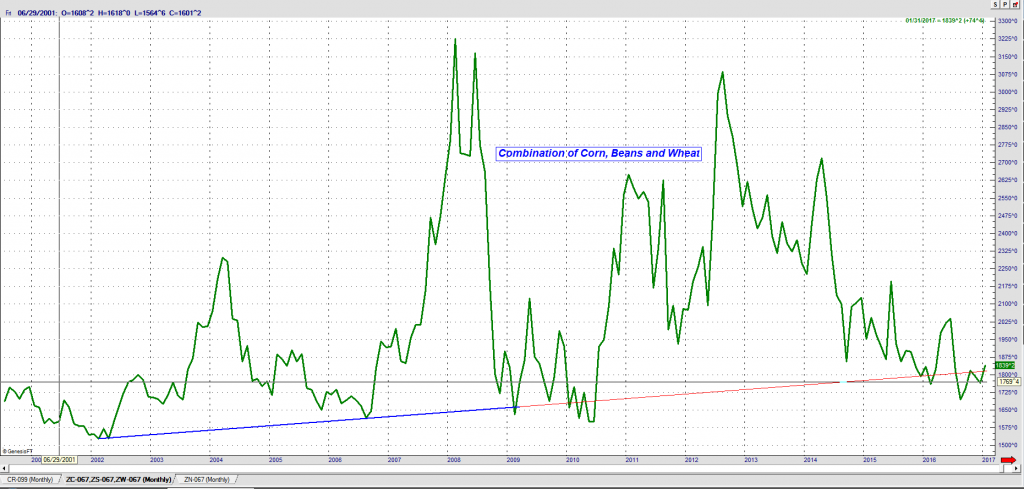 Other news is rather sparse this morning.  The Buenos Aires Grain exchange lowered their estimate for the bean crop by 2.5 MMT to 53.5.  This would compare with Dr. Cordonnier's current estimate of 51 MMT and last year's production of 56 MMT.  While this has been helpful in giving beans a boost over the last couple weeks, keep in mind that with the projected 7.5 MMT boost in Brazil's crop and few problems elsewhere, total production from South America is estimated to increase by around 3.7 MMT.  Might be a challenge to squeeze much more juice from that lemon without further weather issues.