By: Dan Hueber –
Uncertainty and unpredictability breeds caution and in markets caution often translates to risk-off and it would appear that was the general attitude across a wide swath of markets yesterday.  Corn, beans and wheat each suffered one of the most severe down sessions for this young year as did equity markets with the beneficiary appearing to be gold, the market that many will flock to during periods of uncertainty.  The uncertainty also appears to be taking its toll on the U.S. Dollar as well, which may ultimately be a saving grace of the commodity sector. Many markets appear to have settled down (and up) a bit this morning but by no means is that due to any fog lifting on the political and or international front.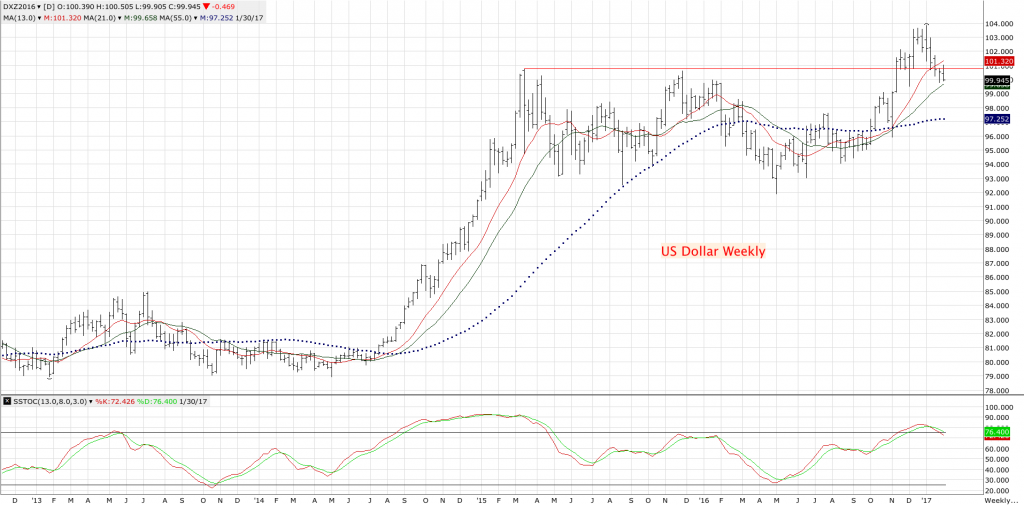 I was encouraged to read that over the next few days that representatives from Mexico will be holding talks with counterparts here in the U.S. I was reminded by our friend Bill Medley from Agri Financial Services that Mexico is indeed the second largest importer of corn from this country.  It is interesting to note that our two largest customers, Japan (12 MMT) and Mexico (11.3MMT)[1] purchase roughly the same amount of corn from us as the next seven nations combined.  Understandably trashing TPP and at least verbally NAFTA raises concerns.
In his weekly update, Dr. Cordonnier noted that the Brazilian bean harvest continues to move forward in spite of wet conditions in a number of areas.  AgRural estimates that 4.3% of the total harvest is complete, which is basically the same pace as last year and a little more than 1% ahead of average.  While maintaining it is still difficult to judge, he has raised his estimate for Argentine bean production by 1 MMT to 52 million as overall conditions have improved for the beans that are in the ground.
This is the final day of the month so one would not expect to see much in the way of new positioning in markets.  The breakdown this past week has turned indicators lower in the grain and soy markets which would appear to have the stage set for defensive trade at least for the early days of February.  Macros should be somewhat supportive today as we have energies and metals higher with equities and the dollar lower but as I commented initially, the overall uncertainty that permeates the air right now will likely be a disruptive factor for the days and weeks ahead.