While the well-known song from the musical My Fair Lady tells us that the rain in Spain fall mainly on the plain, we certainly have not seen much falling across the upper Midwest as of late.  Last weekend I had the opportunity to travel to the center of Iowa, up into western Wisconsin, and then back down into Illinois, and the most notable feature of the trip was dust. Certainly, planters were rolling throughout, and that with the combination of rather strong winds turned the sky into a brownish haze throughout the journey.  I understand that moisture has moved across Nebraska, Iowa, and into Wisconsin, with some fortunate enough to have received anywhere from 1 to 2 inches, but I am sure there were now ponds left behind.  Here in northern Illinois, we are supposed to see some moisture yet today, but as they say, I will believe it when I see or feel it. Unfortunately, the European weather model does not look all the promising for now. Of course, all of this comes on the heels of the dry weather issues impacting the safrinha corn crop in Brazil, amplifying the issue.
All of this was enough to give bulls the ammunition they needed to start this week out with a bang, or maybe more accurately stated, a gap, and we have seen several contracts push into higher highs for the year.  It is worth pointing out that nearby corn futures have gapped higher for the second week in a row.  Do keep in mind, though, that is often the type of thing you hear when approaching a peak.  Of course, considering today ushers in the new limits for corn and beans, $.40 and $1.00, respectively, things could have been much wilder.  A number of countries are on holiday, which may have tempered some of the activity, but reduced volume is a two-edged sword in these types of markets.  I would point out that spot soybean oil joined the ranks of commodities that have recorded a new record higher as this morning we pushed through the 2008 peak at 71.26.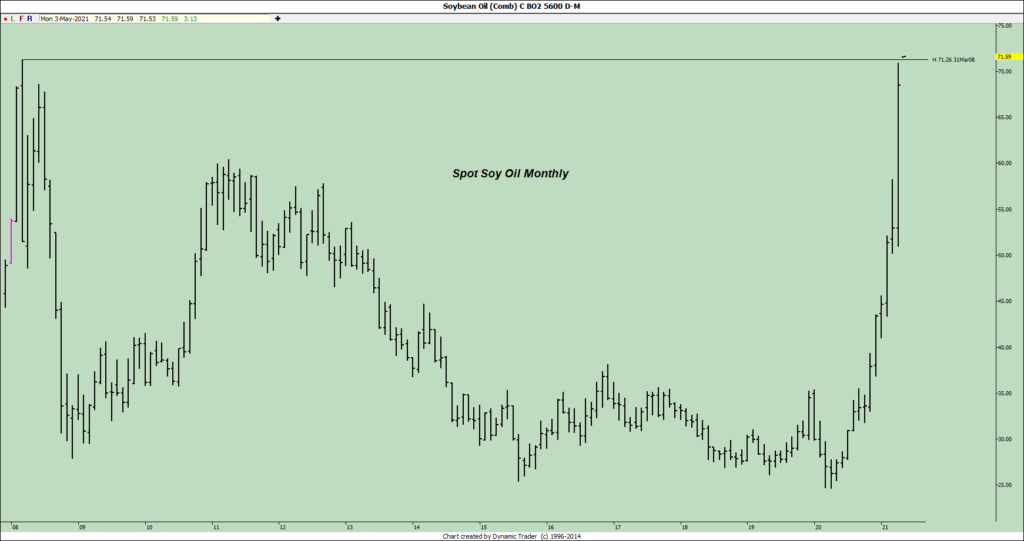 It is against this backdrop that it is interesting to point out that large speculators have reduced their long position in corn for a second week in a row. Of course, let's keep in mind that they still hold over 330,000 contracts on the long side, and two weeks of reducing their holdings does not necessarily make a pattern, but it bares watching as we move forward.
Argentina's export facilities have kicked into gear and during April generated $3 billion worth of trade.  This was over 9% higher than March, which itself marked an 18-year high in trade. For the first four months of this year, they have exported 9.76 billion worth of ag products.
Looking at the macros as we begin the week, we have energies and metals higher, financial instruments higher, equities strong, and the dollar under minor pressure.