Maybe I am just allowing my imagination to get the better of me, which does happen at times, but I swear I could hear faint rattle emanating from the grain and soy markets this week, and in fact, there may have been a bell that rang in the distance.  While I cannot say I have ever experienced it firsthand, I am told that when an individual is nearing death, you will detect a rattling sound as the act of breathing and swallowing become labored.  While it would certainly be premature to call for the clergy, it seems that these markets have become labored as of late, and while they have literally and figuratively rallied, they have not returned to the same level of health as they were just a few weeks ago.  Yes, we are again witnessing some bull spread activity, and we have a report to get through this week, but considering the news at hand is a bullish, i.e., weather outlook, and yet we fail to sustain strength, it begs the question as to if we have reached the end of the line.  Failing to react positively to positive news is generally not a good sign. As I mentioned above, we do have a report to digest this week and some of the hesitation could be due to that fact, so we need to remain patient through tomorrow and see if bulls are provided with enough fresh oxygen to revive them once again. Oh, and about the sound of that bell. I understand that when the Death knell is sounded, the first bell, or the passing bell, only warns of a possible impending death, it is not until you hear the second and finally the third bell ring that you can be sure the end has come.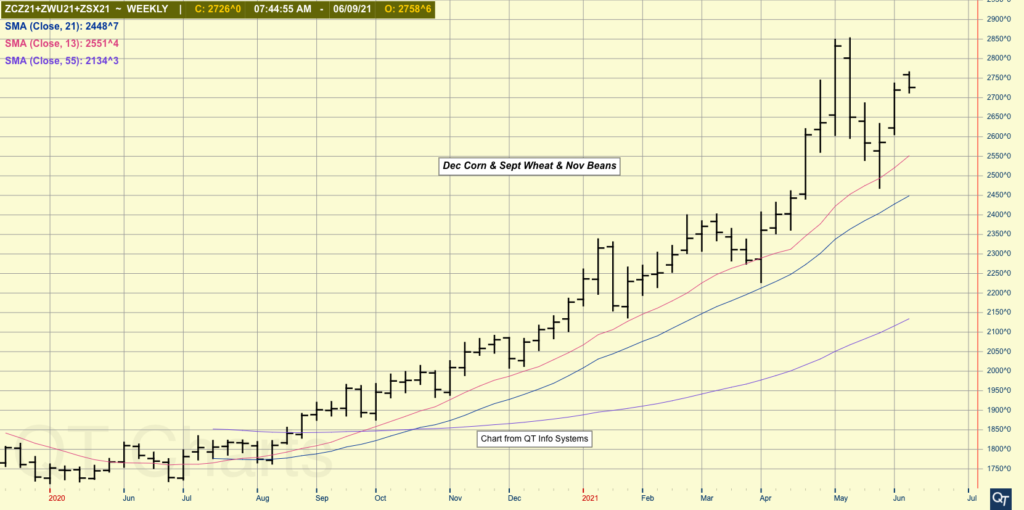 As we await further news, here again, are the trade estimates for the June report;  Brazilian corn production of 97 MMT with beans at 136.1. Argentine corn production of 47 MMT and beans 46.5.  Currently, the USDA stands at 102 and 136  for Brazilian corn and beans and 47 and  47 for Argentina. For domestic crop, the trade expects corn production of 15.009 billion from a yield of 179.4 bpa.  2020/21 ending stocks are expected to slip to 1.203 billion, with 2021/22 then coming in at 1.417 billion.  Bean production is expected to total 4.411 billion from a yield of 50.8 bpa.  2020/21 ending stocks of 122 million and 2021/22 increasing to 143.  This year's total wheat production is estimated to reach 1.891 billion bushels, with 2020/21 ending stocks coming through at 868 million and 2021/22 at 781 million.
Looking at the macros this morning, we have crude oil higher and extending to the highest point traded post-coronavirus shutdown.  Metals are higher but basically going nowhere.  Equities are flat, the dollar is slightly lower, and financial instruments are strong.  Notes and Bonds are creeping into higher highs, and would appear to suggest we are not too far away from seeing the Fed begin to alter their course some.