Carrying on with the semi-biblical allegory I used yesterday, it would appear that "gov" does indeed giveth and taketh away.  With the release of the June report, it gaveth some encouragement to the corn market with increased usage and lower domestic and global ending stock, but tooketh away part of the bull's story for beans, with less domestic usage and an increase in both domestic and global ending stocks.  We shall now have to be patient and see if "gov" is benevolent or malevolent when it proclaims the acreage estimates on the 30th of this month.
It would appear that the prize for the most dramatic action for the week will be awarded to July beans.  After beginning the week with a gap higher and push north of 16.00 once again, bulls have been streaming towards the exits, and we are currently trading around 50-cents lower for the week and are staring at a possible outside lower weekly reversal. A close today below 15.37 would confirm that.  This overall advance has been nothing short of remarkable, as, over a twelve-month time span, this contract moved from what has been the low side of the range (8.00/8.25), post-2012, to challenge the major peaks that were established back between 2008/2012, nearly uninterrupted.  It is worth pointing out as well that the leader of this advance, bean oil, has also turned lower this week, and this after establishing a new record high in the July contract.  We should keep in mind that the overall fundamental situation in beans is a far cry from being classified as bearish, and we still have a summer of weather risk to contend with. Still, it would appear that the bean market is finally telling us, we have reached that time and price point where enough is enough.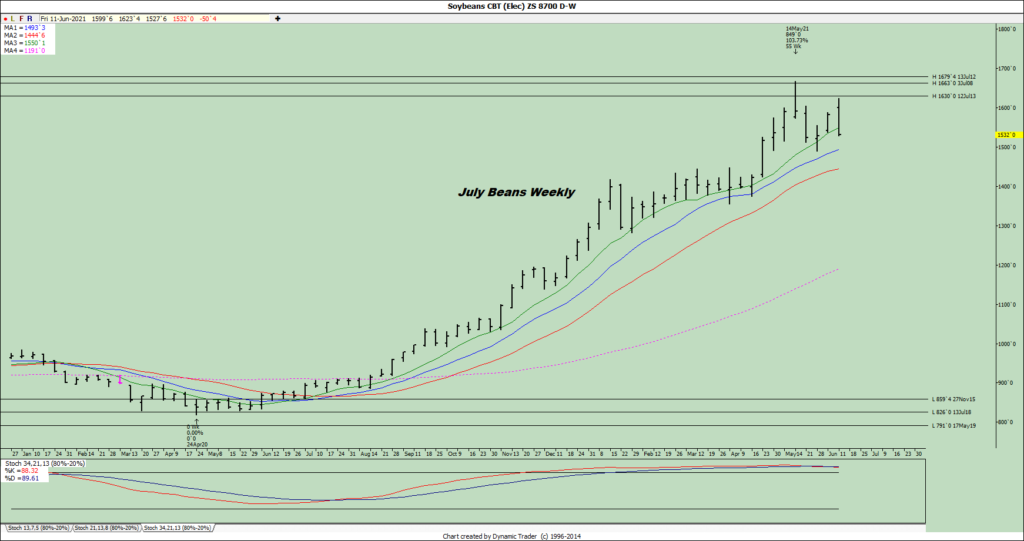 As we near the completion of the week in the macros, we have energies poised to close higher for third week in a row with Brent Crude at the highest point since May 2019.  Gold is fractionally lower for the week, 10-year notes are at the highest point since March, the S&P 500 on track for another new record high weekly close and the U.S. Dollar is higher and appears to be turning the corner to the upside.