A week ago today, grain and soybean markets gapped higher to begin the week, and the bulls must have been feeling pretty comfortable with the notion that they were in charge.  Of course, as my mother always warned me, when you begin to believe you have everything in your control, life is probably about ready to teach you a lesson, and that appears to be the case for the bulls this morning.  The only market that I have seen to gap lower has been bean oil, which almost stands to reason as that was the culprit who began this overall advance, but we are sharply lower pretty much everywhere else.  What changed in a week?  The simple answer is the weather.  There was just enough rain around in the Northern Plains and Upper Midwest over the weekend and now an improved moisture and temperature outlook, which has been enough to spur a run for the Egress as P.T. Barnum liked to call it. For the record, over the weekend, right where I sit, we received five-hundredths of an inch, but about a mile away, they had almost a full inch.
I would point out that on the nearby combination chart, we have not pushed down a low as we did after the initial break from the May peak, but with indicators pointing in that direction, it would appear we are headed at least for a test of that zone.  If/when we violate that mark, it would provide additional confirmation that we have a major peak in place.
It would appear that about the only commodity that is not having a rough go of it as we begin this week is crude oil.  As more of the world continues to emerge from the coronavirus lockdown, the prevailing sentiment is that demand for crude will continue to grow until at least 2022. Moreover, with Opec+ staying with its course of gradual expansion, the outlook continues to look positive.  All that said, we are now in the 5th wave higher since this low posted in the spring of 2020, and Brent Crude should run into stiff resistance if we continue to climb.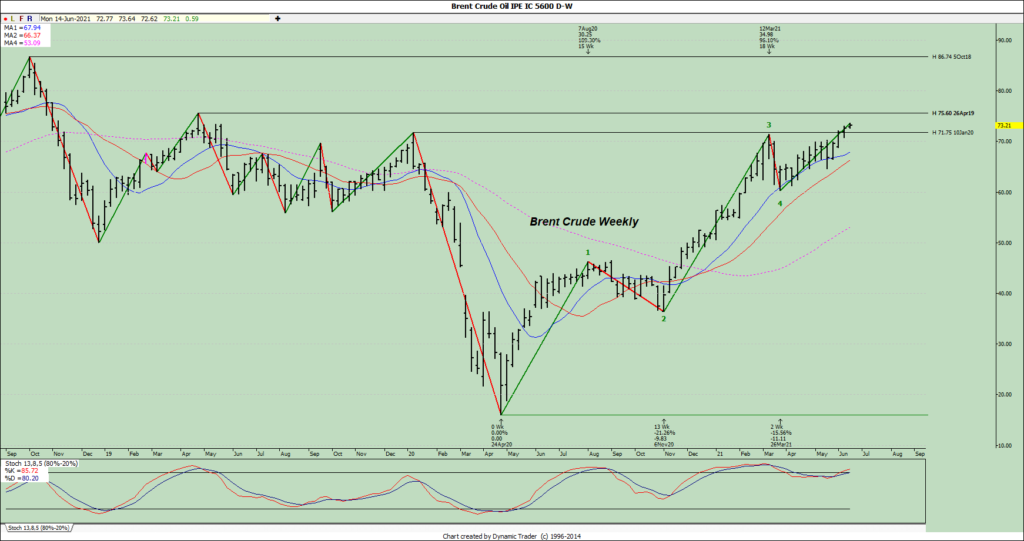 Looking at the other macros this morning, metals are sharply lower, financial instruments flat and equities and the dollar slightly lower.