By: Dan Hueber –
Mixed bag of trade in the grain and soy markets here as we prepare to finish out yet another week.  It is amazing to thinking that 2017 is already more than 1/12th complete and considering all the interesting developments that have taken place thus far in the political and international scene, one can only imagine what the months ahead will hold in store.  In the here and now of our markets though, if we closed right now, for the week March corn would be up 4-cents, December corn up 4-cents, March beans down 10-cents and November beans down 7 cents.  For those keeping score for crop insurance purposes for the first two days of the month, the average price for December corn is 3.953 and November beans 10.15.
According to data released by the UN Food and Ag Organization, global food prices climbed to a 2-year high in the month of January rising 2.1% over December and is 16.4% above a year ago.  Recognize that the majority of the increases are attributed to sugar, vegetable oils and dairy products but meats and cereals have at least been holding their own.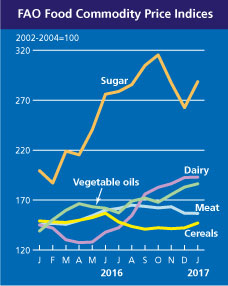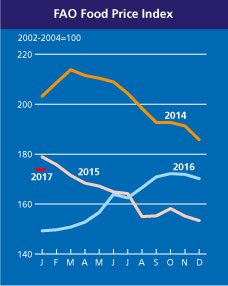 Granted, this is a broader picture of the commodity world but I would like to point out the action in the overall commodity indexes.  The CRB index currently sits around 17% higher than we were at the lows in January 2016 but possibly more importantly, we are pressing against a level that has capped the index for the past two years now.  There is no assurance that we can push through this level, at least as of yet, but I would suggest once again that the overall pattern that we are witnessing is indicative of a major bottom and trend reversal for commodities.  Note as well that since the end of last year, we have witnessed general pressure in the US Dollar and while here as well there is no guarantee that this will continue, it would appear that the tide may be turning.