Scorching heat in the western United States and up into Canada, early freezing temperatures in South America, and devastating rainfall and flooding in part of Europe.  If I read a report that it snowed in the Florida Keys overnight, I would not be shocked.  These are obviously the volatile global weather conditions that we will be living with for the foreseeable future, which in turn, means we in the commodity and investment world will be living with inordinately volatile trade. Maybe this is the new normal.
Of course, adding to all of this uncertainty, we have the growing number of cases and concerns about the spread of the Delta Variant of the coronavirus that appears to have unsettled more than a few yesterday.  I do not see where that has changed overnight, and many markets have recovered, which could tend to suggest we witnessed something of an emotional overreaction, which markets are prone to do.  That said, once you begin to push people out of the markets, for whatever reason, it can be a real challenge to whet their appetites for risk once again, and I believe we are reaching that juncture in many.
For the second week in a row, the only market influencing change in the weekly crop conditions report was in wheat, as spring wheat rated good/excellent dropped another 5% to just 11%.  That which is rated very poor increased from 21% to 29%.  Winter wheat harvest advanced 14% to 73% complete.  Bean conditions improved 1% in good/excellent, taking it to 60%, corn was unchanged at 65%, and cotton improved 4% to 60% good/excellent.  56% of the corn across the nation is now silking, 4% ahead of the 5-year average, and 8% has reached the dough stage.
The safrinha corn harvest in Brazil has pushed up to 30% complete, which is 13% behind that pace last year.  The continued freezing temperatures have pretty well finished off the yield potential, but we will need to see harvest complete before there is a solid handle on total production.  Corn harvest in Argentina has crept up to 62.4% complete, and 96% of winter wheat has been planted.
One market I would like to draw your attention to is the U.S. Dollar which has extended to higher highs for this swing. Seeing that notes and bonds also shot higher yesterday, one has to believe the strength can be attributed to a flight to safety, but be that as it may, the momentum in the dollar appears to be with the bull.  We have not quite reached back to the calendar year high but are within striking distance, and even at current levels, we would match the highest weekly close for the year.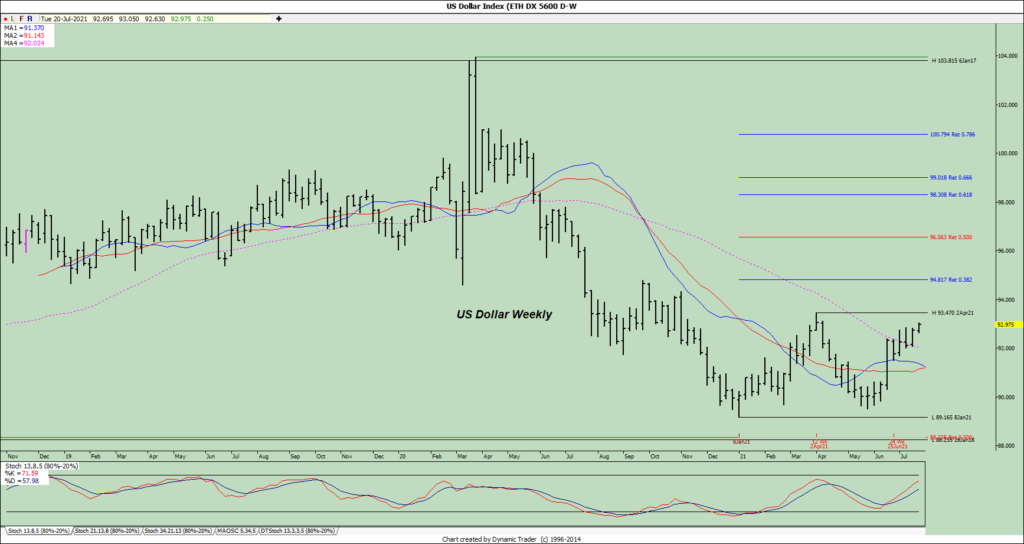 Finally, the other panic-stricken macros have bounced back this morning as well.  Energies, metals, and equities have all regained a portion of yesterday's loss.