If you sat down with someone unfamiliar with agriculture and the ways of commodity markets and explained the current situation, it might go something like this.  Well over 60% of the corn in this country has now reached beyond the key pollination/silking stage, and at least 65% of it was rated good to excellent condition, so without something quite out of the ordinary happening between now and harvest, we should be looking at a solid corn crop this year.  Wheat has had its share of trouble, particularly with what was planted in the spring, which is raised in many of the regions that have and are suffering through very hot and dry weather conditions.  As far as beans are concerned, we still have what many consider the most critical month of August ahead. Still, west of the Mississippi, where over 40% of the bean acreage is planted, growing conditions to date have been less than ideal. In fact, in the Dakotas and Minnesota, where you find around 15% of the acreage, they have been downright terrible.  The individual(s) who you were explaining this to might be tempted to stop you right there and say, "with this being the case, the corn market must have dropped in value this week, with wheat and beans surely trading higher!"  At this point, you would also have to explain that in the sometimes "bizarro world" of commodity markets, what makes sense, does not necessarily make money.  Granted, we are a few hours away from wrapping up trade for the week, but if we closed right now, corn would be 9-cents higher, Minneapolis wheat is down 8-cents and soybeans are down over 30-cents.  At this point, the person would undoubtedly have a puzzled look on their face and will have decided to stay as far away from commodity markets as possible.
Of course, looking at markets from a micro perspective is always dangerous unless you are a day trader, and it would seem the action this week could suggest we have moved into the initial stages of transitioning from a market that is focused on demand instead of production and supply. While the process should slowly evolve between now and harvest, it might require quite a weather disruption in the month of August to really attract money and buying interest once again.  The weather updates that I have read this morning tell us that for the next ten days to two weeks, we could still experience hot and dry conditions, and for those regions, particularly the Dakotas and Minnesota, which are lacking any subsoil moisture, ongoing crop stress. Will this be enough to lift beans from the doldrums witnessed this week as we move out into August?  One has to suspect it will help, but unless that outlook extends further into August and impacts the other 60% or so of the bean acreage east of the Mississippi River, it may be little more than a rebound within exiting ranges.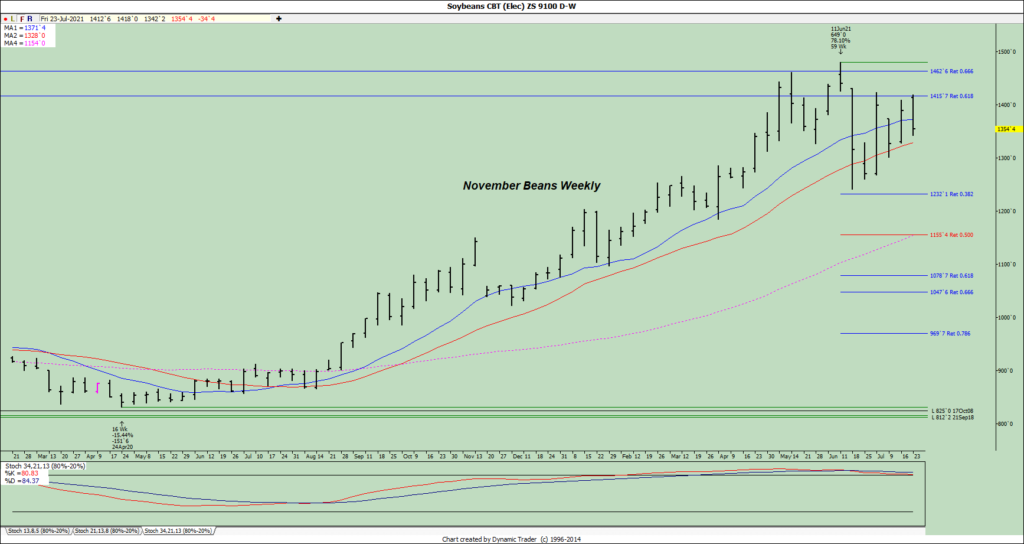 Looking around the non-ag markets as we wrap up the week.  If we closed right now, crude oil would be unchanged after having bounced well from early week pressure.  Spot gold is down a bit over $10 an ounce but has been generally directionless for the past couple of weeks. Both notes and bonds are higher but well off the highs for the week. And finally, the equity markets, which once again found renewed buying interest after early-week pressure and are on track to record new record high weekly closes, again.