While it does not appear that anyone is beating down the door to get into the long side of the grain or soy markets this morning, we did witness a nearly classic example of a positive close after a negative report last Friday.  Understandably, with the 2021 harvest just getting underway, there remains a bit of hesitancy to push prices higher. Still, I would suggest the action, not to mention the fact that we reached down to test what had been significant support, mid-summer, that for now, we have rather limited downside potential in these markets.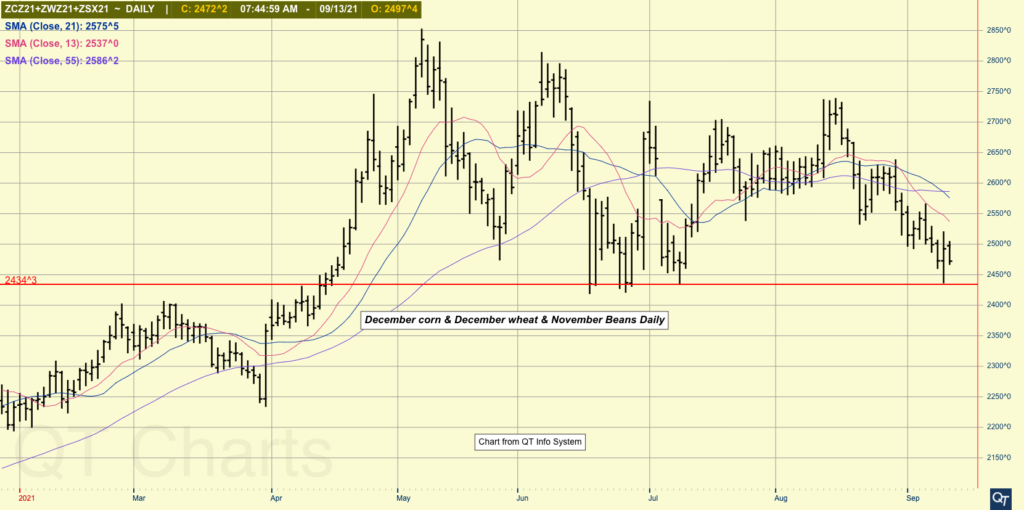 Overall ag-specific news is relatively sparse this morning.  While there should be scattered showers across the Midwest for the next couple of weeks, but temperatures are expected to remain at, to above normal, which should speed along crop maturation as well as harvest. The southern Delta is preparing for Tropical Storm Nicholas to dose them with heavy rains and flooding yet again.  We have at least begun the week with additional export sales.  This time, unknown destinations purchased another couple of cargos of beans, which amounts to 132,000 MT.
I would not go so far as to say they are "squealing" with joy, but Chinese hog producers finally have a bit of good news.  As we have reported previously, since spring, wholesale prices there have fallen all the way back down to pre-ASF levels, and the red ink has been flowing.  At the government's urging, consumers searched out other sources of protein, one of which was freshwater fish, which was plentiful and cheap.  This, along with some newer environmental changes, has pushed the price of fish as much as 50% higher, moving above chicken and, at times, pork.  At the end of August, Grass carp (yum) was selling for 21.06 yuan per kilogram, compared with pork at 20.80.  I am pretty sure I know which product I would be bringing home for dinner.
In the macro world this morning, we have energies higher, metals mixed, financial instruments higher, and both the U.S. Dollar and equities strong.