No doubt many of you have heard to old quip, "If I didn't have bad luck, I wouldn't have any luck at all."  It would appear this morning, we can apply this same sentiment to the news for soy and grain markets.  As is often typical at midweek, the newswires are sparse with information, but the USDA did provide data in the daily reporting system. China has canceled a purchase of 132,000 MT of beans, and unknown destinations canceled a purchase of 196,000 of the same.  After a few days of drawing a blank, we needed some news from the export sector, but this would not have been the first choice.  This was not welcome news for a soybean market that is already having difficulty moving from dead center.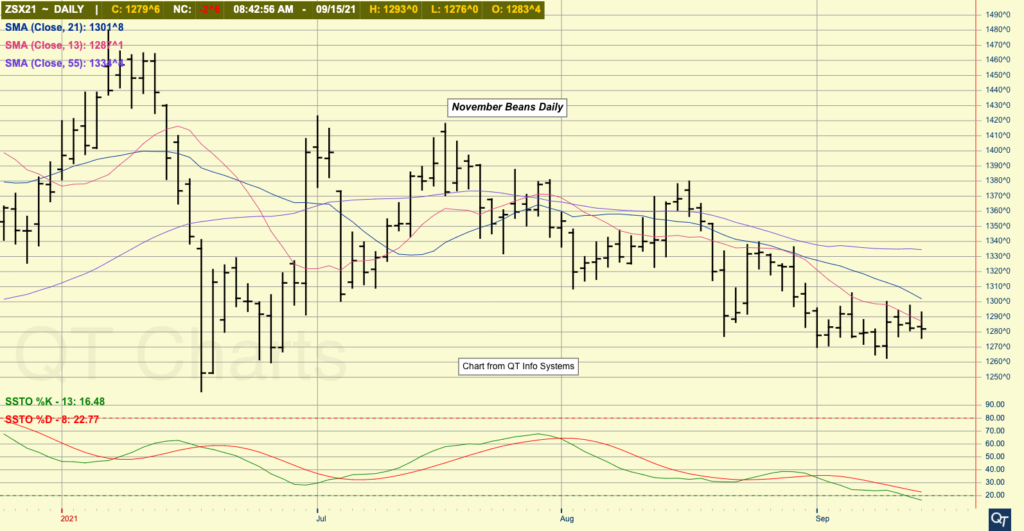 Maybe the weekly export sales report tomorrow morning will give us something more to chat about, but for this today, all we have left are economic releases.  During August, import prices into the U.S. dropped .3%, versus an expected .2% increase.  Export prices increased by .4%.  The Federal Reserve U.S. Industrial Production figure for last month showed a rise of .4%, versus an expected .5% climb.  U.S. Capacity Utilization came through right at the expected 76.4%.  These same numbers for July were revised to .8% and 76.2%, respectively.
Last but not least, figuratively speaking, yesterday, the Labor Department released Consumer Price Index figures, which indicated that inflationary pressures have eased a bit more.  During August, the CPI increased a seasonally adjusted .3%, compared with July at .5% and June at .9%.   A drop in used car prices was one of the standouts in the report.

In the macros this morning, we find energies strong, metals under pressure, financial instruments slightly lower, the dollar soft and equities higher.