There is an ancient superstition that evil spirits reside on a particular side of a bed, and if you disturb these devils, you will attract their wrath and would be cursed with a foul mood for at least the rest of the day.  Hence the expression, "getting out on the wrong side of the bed." Well, it would appear that traders in the grain and soy markets and equities as well all got out on the wrong side of the bed as we certainly have some pretty cursed-looking trade activity this morning.  Grain/soy markets at one point were all suffering double-digit losses but, the pressure pales in comparison to what is going on over in the equity trade.
Concerns about the Chinese real estate sector, particularly the developer, Evergrande, have spurred a global selloff in equities. No doubt the Fed meeting this week has added to the dour sentiment.  Note that the S&P 500 futures gapped lower this morning and could close below the 55-day moving average for the first time since March and only the second time since October of last year.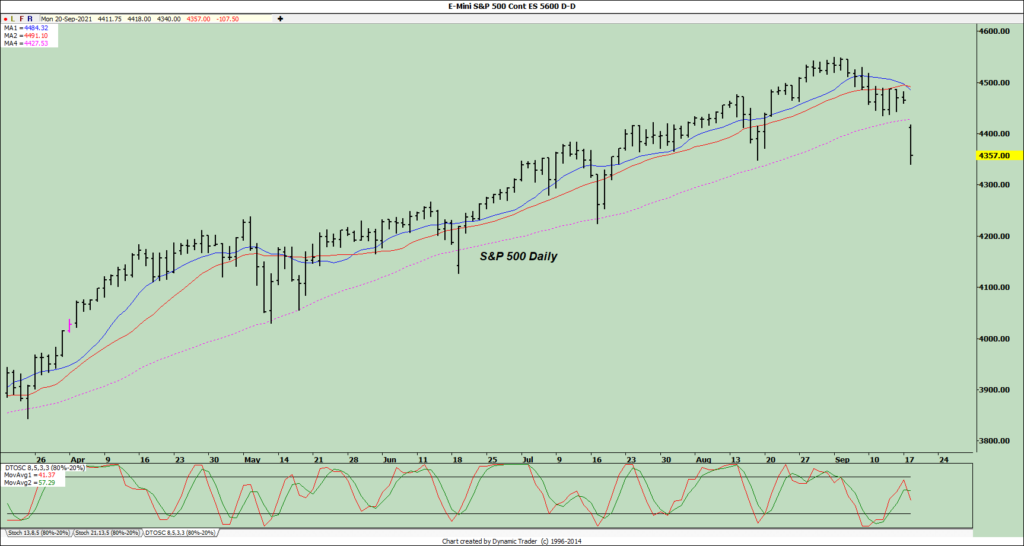 That was not the only news out of China this morning, as they released import data for the month of August.  Compared to a year ago, the most significant percentage gains came in corn as they unloaded 3.23 MMT, up 221% from August 2020.  For the year to date, corn imports are up 283%.  Sorghum imports of the month came in at 810k MT, up 27% versus a year ago, wheat imports at 710k MT, up 1%, pork imports at 280k MT, down 21%, and finally beans at 9.49 MMT, down from 9.6 last year.  No doubt the most disappointing aspect of the bean figure is that 9.04 MMT of these originated in Brazil and only 17,575 MT from the United States.
APK Inform has released updated figures for production in Ukraine this year.  They now estimate a total grain crop of 80.6 MMT, which is 24% higher than a year ago. This is broken down with 37.8 MMT of corn, 31.2 MMT of wheat, and 9.4 MMT of barley.  They are looking for total grain exports of 56.97 MMT, compared with 45.49 last year.  Of this, 30 million is in corn, 21 million in wheat, and 5.4 million in barley.
Goldman Sachs informed clients this morning that with the worldwide price surge in natural gas, coupled with a possible cold winter, there is potential to push the price of crude oil $5 per barrel higher in the 4th quarter.
Crude is actually down over $1  this morning, gold is higher, financial instruments are strong, and the dollar is higher.