By the time the closing bells had wrung yesterday, the early morning panic selling had generally subsided in most markets, and quite a few are even trading higher this morning.  Dead cat bounce?  Certainly possible, but I suspect we have pretty solid footing beneath us when it comes to the grain and soy sector, so I am not expecting to witness a significant washout from here.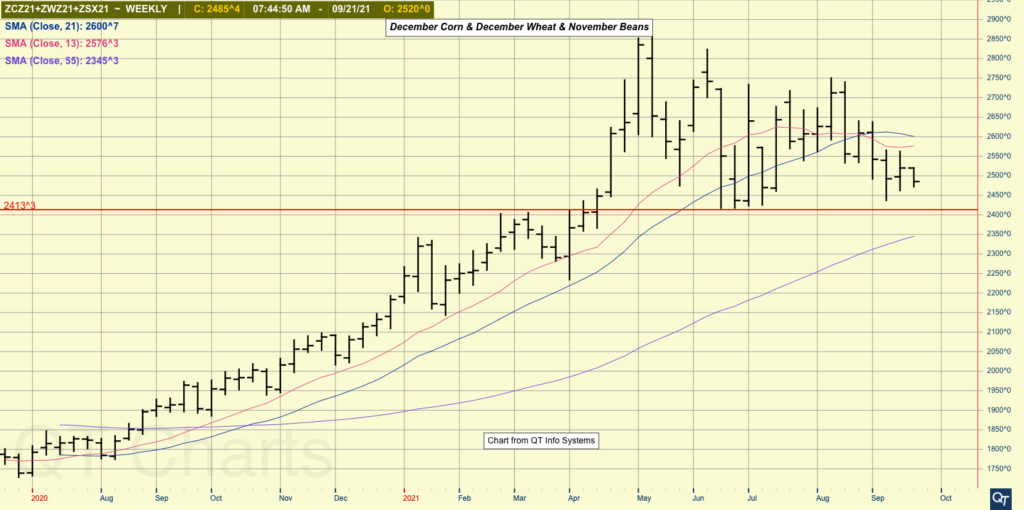 Of course, one of the stumbling blocks that any price recovery will encounter will be harvest activity, at least from a psychological standpoint. That said, outside of previously contracted bushels, we should not witness much new selling at the farm level, at least this early in harvest.  According to NASS, 10% of the corn crop was harvested as of the weekend and 6% of the beans, which basically matches the average pace.  57% of the corn is now rated mature, which is 10% ahead of average, and 58% of beans are dropping leaves, also 10% ahead of the average.  Looking at the other major crops, we find 9% of cotton harvested, 2% behind the average pace, and 21% of winter wheat is planted, versus a normal 18%.
Looking to the southern hemisphere, in Brazil, it is now estimated that 22% of the full-season corn has been planted, which is just 1% behind last year's pace.  Moisture conditions are better than a year ago, so germination and emergence have been good.  The president of the Brazilian Corn Producers Association is projecting a crop of 32 MMT, which would be an increase of 7 million from last year.  Soybean planting is just now getting underway.  In Argentina, the corn planting pace is a bit slower.  According to the Buenos Aires Grain Exchange, just over 2% of the crop is in the ground, compared with 6% a year ago.
We have a couple of economic releases to pass along this morning.  Both Housing Starts and Building Permits we stronger than anticipated in August. Starts grew 3.9% to 1.615 million units versus an expected 1% growth, and Building Permits were up 6% to 1.728 million units.  The industry was looking for a .9% decrease.
Looking at the macros this morning, we find energies soft, metal higher, financial instruments flat to lower, equities higher, but fading from early strength. The dollar is flat but has recovered from overnight pressure.
The Federal Reserve began a two-day meeting this morning, so we shall see what clues emerge as to when tapering may begin.