By: Dan Hueber –
While I am afraid that it may not have yet trickled down enough to provide much of a benefit to those of you who are still out shopping for your Valentines chocolates nor for confirmed chocoholics as myself, but there is one commodity that has truly fallen from favor in the past year and that is cocoa. Since the El Nino inspired rally last summer, spot futures have fallen by more than 40% in both the US and the more dominant London markets and have now returned to the lowest levels witnessed since the depth of the financial panic and onset of the great recession.  As it turned out, Western Africa produced a bumper crop this past year and ports along the Ivory coast are bloated with inventory much like waistlines do after eating too much of this product.  Reminiscent of stories from pre-CBOT grain markets in the early 19th century, there are reports that pods are literally being dumped along the sides roads just to get rid of them.  It is interesting to note that if you look at this monthly chart of cocoa prices, it would appear that this market has basically caught up with the action in almost every other commodity and considering that acreage is being diverted to other commodities the washout is probably close to complete.  Still, for we consumers of this delectable treat there may not be much relief in sight at least in the way of lower prices for finished products.  Turns out that another key ingredient for many treats is in short supply as the demand for "natural" products continues to grow.  The price of real vanilla (pods) has more than tripled in the past two years.  Maybe there is a message here concerning how I need to change my diet.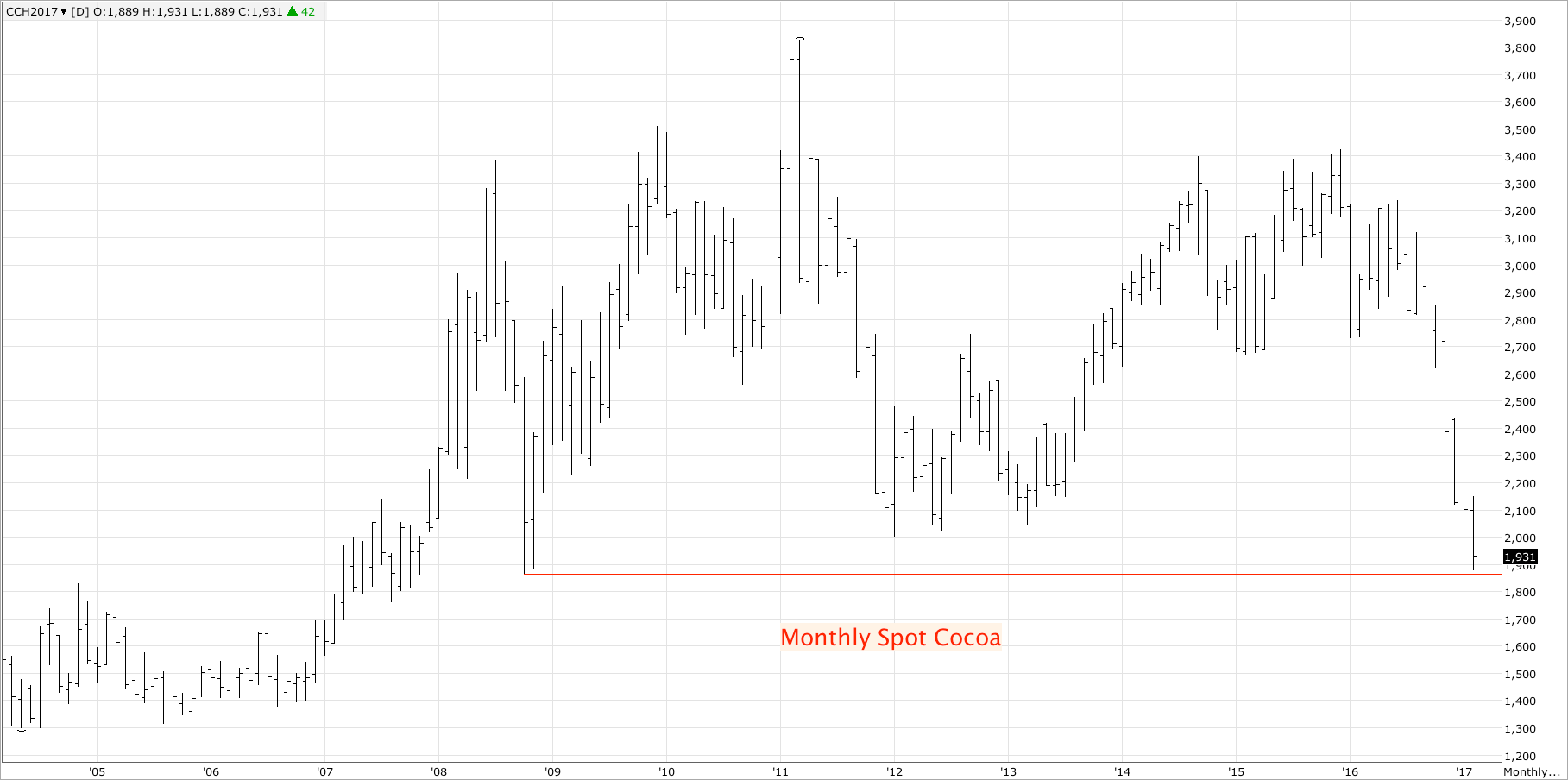 Grain and soy markets and it seems particularly the soy, appear to be losing upward momentum at this time. One has to believe that this is a result of the expanding harvest in South American and continued positive yield reports.  Conab bumped up their Brazilian estimates for both soy and corn.   They now project a bean crop of 105.5 MMT (+1.78 via Jan.) and corn at 87.4 MMT, which would be 31.4% above last year.  They also project that the country will export 24 MMT this year, which was unchanged from their January estimate.  Small wonder that a senator in Mexico plans to introduce legislation to possibly require that they look to secure corn imports first from South America instead of the US.  Dr. Cordonnier bumped his Brazilian bean estimate higher by 1 MMT this week taking it to 105 MMT.  At this point he has left his corn number unchanged at 86 MMT.  Overall conditions have continued to improve in Argentina though and he raised estimates for both of the major crops.  He now places the bean production at 54 MMT which is an increase of 2 MMT and corn production at 36 MMT also up 2.
Last but not least, it is not that there is not some good news around as this morning there were reported sales of 229k MT of corn to Japan and 142.5k MT of beans to Mexico.  Still, with a strong dollar and markets that have been rallying for the better part of a month, it would appear that the bull enthusiasm may be waning.