If any bulls were crossing their fingers or rubbing their lucky rabbit's foot, hoping for something inspiring in the weekly export sales, they have been left wanting this morning.  Maybe next week, they should try and find a four-leaf clover or some other good luck charm that is more effective.  For the week ending September 16th, we sold just 373,000 MT or 14.7 million bushels of corn.  This was an improvement on the previous week's sales, but that is not saying much.  The top purchaser was Canada with 135.8k MT, followed by Mexico taking 134.5k and then Japan in for 72.2k.  The USDA did also announce a sale of 138,403 MT of corn to Guatemala this morning.  Wheat sales came through at 355,900 MT or 13 million bushels.  This was down 42% from last week but still 1% above the 4-week average.  The Philippines were the top buyer with 126.6k MT, followed by Mexico with 71.4k and Japan at 60.6k.  Beans sales came through towards the upper end of expectations at 902,900 MT or 33.2 million bushels, but this was still nearly 30% lower than the previous week.  As you might have suspected, China was the best buyer with 624.2k MT or 70% of the total, followed by Mexico taking 85.3k and then Egypt for 58k. Beef sales were up 3% for the week at 15,800 MT, and pork sales jumped 29% to 32,600 MT.  China was absent from the pork market last week.
The International Grains Council updated a few estimates this morning.  The bumped the global corn estimate up 7 MMT to a record 380.3 MMT.  In turn, global wheat production was lowered 1 MMT to 781 MMT, attributed to lower production in Australia and Ukraine.
If the NOAA is on target, we will not be needing to pull out any winter coats in the near term as the 6-to-10-day weather forecast calls for warm temperature for a large portion of the middle of the country.  Combined with little moisture in the outlook, it would appear that harvest should be able to move ahead at a clipper pace, except maybe for those to the east that has seen an overabundance of moisture this past week.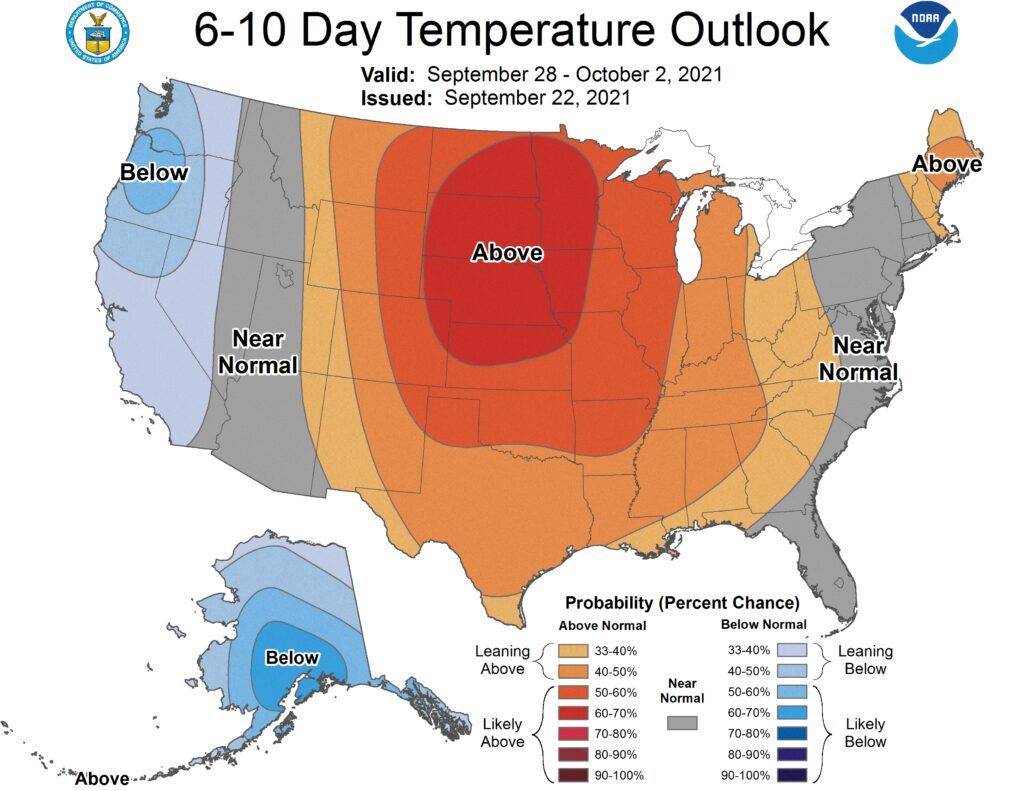 For the second week in a row, initial jobless claims moved higher.  For the week ending the 18th, the number climbed 16,000 to 351,000, while Wall Street expected to see the number drop to around 320,000.  There were two states that witnessed the largest increases: California and Virginia.

In the macros, we find energies higher, metals lower, financial instruments lower, the dollar lows, and equities strong.