We have all heard those stories about famous last words.  "Hold my beer while I try this," or maybe "There has not been a shark sighted in these waters in years."  Well, it would seem we can now add to the list, "Don't worry about corn rallying; it is harvest."  The corn market stunned more than a few yesterday, as in the face of a pretty clear weather outlook and harvest kicking into a higher gear across much of the nation, we still recorded a mildly impressive rally.
Granted, the fact that we are nearing the end of a month and the end of the third quarter of 2021 undoubtedly allowed the move to exaggerate some. Still, I suspect it is also reflective of a market that has reached a level of value, and there is little incentive for the bear to hang around.  That said, it would not appear we have much reason to move significantly higher from here at this time either.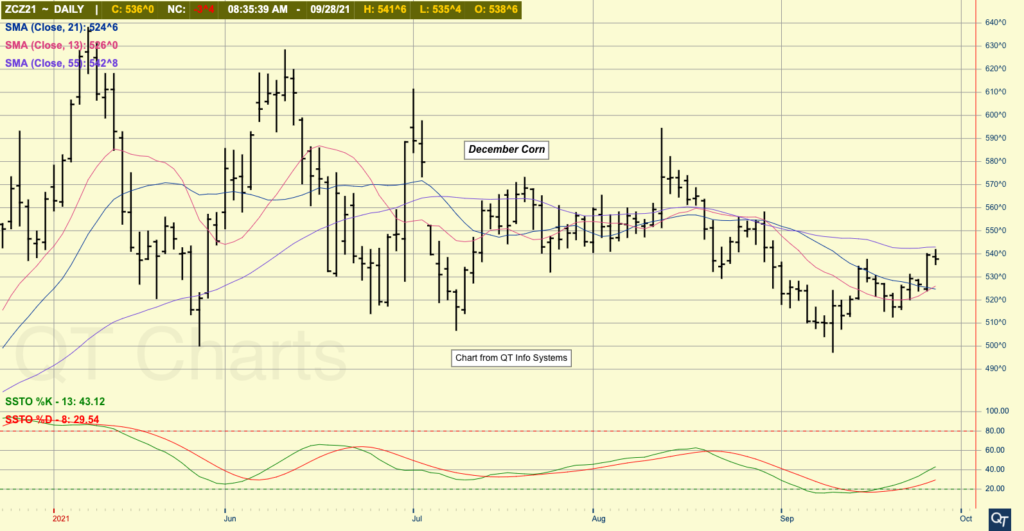 According to NASS, corn harvest moved ahead 8% last week and stood at 18% as of Sunday.  Obviously, more than a few combines had switched to beans, as harvest moved ahead 10% reaching 16% complete.  In both cases, we are 3% ahead of the 5-year average.  Cotton harvest inched forward, moving up just 2% to 11% complete and winter wheat planted came through at 34% compared to an average pace of 32%.  Emergence is at 9%.
Looking to the southern hemisphere, we find the first season corn crop in Brazil now 26% planted, which leaves them at the same pace as a year ago.  Moisture has been a bit more plentiful than last year, but I would emphasize the word "bit" as overall conditions remain dry. Soybean planting is just over 1% complete.  Further south into Argentina, according to the Buenos Aires Grain Exchange, corn planting has reached 8.5% complete compared to 11% a year ago, with beans yet to begin.
On the economic front this morning, most releases have leaned to the disappointing side.  The Conference Board September Consumer Confidence Index came in at 109.3, versus an expected 115.3.  The Consumer Present Situation Index was 143.4, versus the last reading at 147.3, and the Consumer Expectations Index registered 86.6, compared with the previous number of 91.4.  Delta variant concerns and rising prices for a number of goods, particularly energies, appear to be taking a toll on consumer attitudes and spending.
The historic advance in natural gas tool this market into new highs this week, which could signal that we have reached the blow-off stage of the advance, but that bled over to crude oil as well, with Brent gapping higher on Monday and trading at the $80 level for the first time since October of 2018.  While I would not be surprised if this is not the beginning of a blow-off to a peak as well, we lack confirmation just yet.  The high in 2018 was $86.74, and a run into the $83 to $86 range would not be shocking at this point.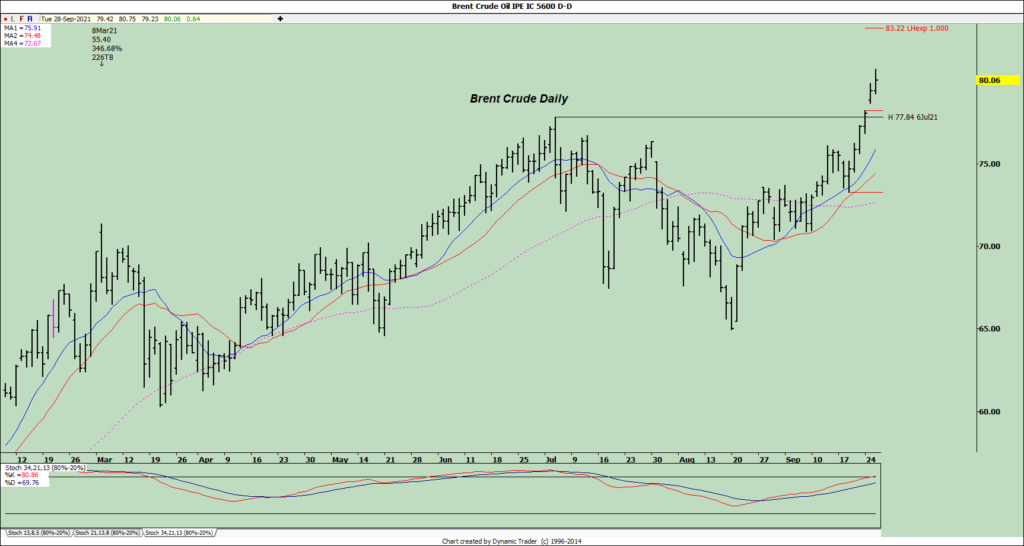 In the other Marcos this morning, we have metals under heavy pressure, equities, and financial instrument down sharply, and the dollar strong and challenging the calendar year highs.