After shaking the trees a bit yesterday to see how many loose nuts might fall to the ground, the grain and soy markets have uncovered a little buying interest again this morning.  While we have not recouped all the Tuesday-undo losses, bulls should have a little momentum on their side as we move into the final hours of this month and this quarter.  That said, we are moving quickly toward the gut slot of harvest activity, which should keep a lid on things, if nothing else new and exciting, meaning bullish, gets thrown into the mix.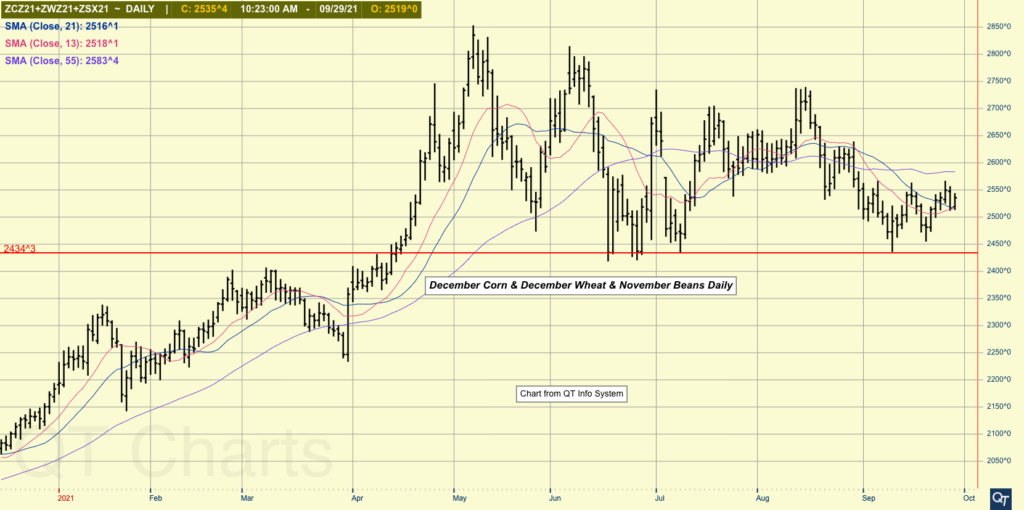 Two potential "disruptive" factors could arrive tomorrow: the quarterly grain stocks report and small grains production estimates.  Here are the trade expectations.  September 1st corn stocks are expected to be 1.155 billion bushels, beans at 174 million, and wheat at 1.852 billion.  All wheat production is estimated to come through at 1.68 billion, which would be comprised of 780 million hard red winter, 364 million soft red winter, 176 million white winter, 327 million of other spring, and 34 million durum.  While I would not anticipate any surprises with Uncle Sam, the possibility always exists. Of course, weekly export sales will be released in the morning as well.
During the past couple of years, we have heard ad nauseam about the growth in the production of "alternative meat" products, and all too often, the industry has been given a pass on price, compared to animal meats as well as the actual ingredients that go into much of these "healthy" choices.  I will leave that second topic alone for now, but it would appear that the higher prices for these products may become even higher.  While soybeans are still a key ingredient in many veggie meat substitutes, and we know prices are significantly higher than a year ago, another key ingredient is peas, which have also witnessed a significant rally over the past year. Drought in Canada and too much moisture in Europe has translated to sharp decreases in yields this year, and the market for peas has more than doubled.  One cannot help but think that once these increases are passed along at the retail counter, those alternative meat consumers may be looking for another alternative.