We have a somewhat lethargic start to this first full week of October.  We are witnessing a basic continuation of the pattern set after the release of the USDA data last week, with grains and wheat in particular higher and beans struggling. Still, overall we have not made a tremendous amount of headway, either higher or lower. Last Friday, I included a chart of weekly spot bean futures but felt it worthwhile this morning to give you a peek (or is that peak?) at the November-only chart. This contract has slipped down to the summer lows, which happen to be right at a 38% retracement of the entire 2020/21 advance, but note as well that we are also testing the 55-week moving average for the first time since August of last year.  We most certainly are sitting on the edge of the precipice, and it may not take much to push this market over.  The only possible saving grace is that weekly stochastics have already reached the oversold zone, so bears could be a bit reluctant to force the move at this time.  If they do, the next stop down should be 11.55.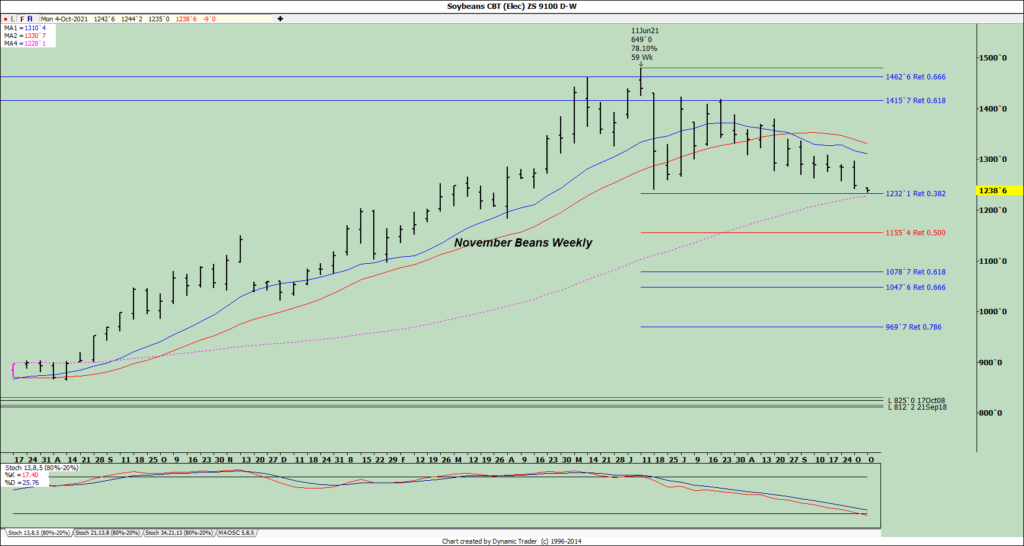 The morning weather update calls for generally dry and warm conditions for the western half of the grain belt with scattered showers and warmer than average temperatures in the east.  The Delta will continue to struggle with excess moisture.  None of this would appear to be market-moving factors, and the overall harvest should continue to move ahead at a clipper pace.
We have at least started out the week with a nice export sale in corn.  Mexico was in to purchase 426,800 MT.  Of course, news that Mexico bought U.S. Corn will not set the hearts of too many bulls aflutter.
In the macro trade this morning, we find pretty much every market under pressure, with the exception of crude oil, which has pushed into higher highs for this swing yet again.  The members of Opec+ are meeting again today to discuss possibly opening the valve a bit wider. Gauging from this market action, many in the trade do not believe it will be opened by much, if any.