By: Dan Hueber –
It turns out that Funds were not the Farmers Friends yesterday as they finally turned into sellers instead of buyers.  On the day it is estimated that they sold 3,000 contract of corn, 6,000 beans, 2,000 wheat as well as thousands of contract of meal and oil.  Granted, it is not that any of these markets suffered a nose dive, but considering this (fund buying) had really been the fuel that had recently carried prices higher, without it the engines began to sputter rather quickly.
Recently there has been a lack of story to support the bull anyway and I have to imagine that some of the outside markets began to weigh on commodities, particularly trade in the equities and the U.S. Dollar.  Equity markets have uncovered another round of buying interest luring more investment dollars into that arena and the dollar has now been on a two-week rebound and has reached back to the highest level since early January.  I continue to believe that the longer-term picture for the dollar has a negative cast and also believe that the equities trade will find a peak during the first quarter of this year but for now, they would appear to be acting as a weight hanging on the neck of our markets.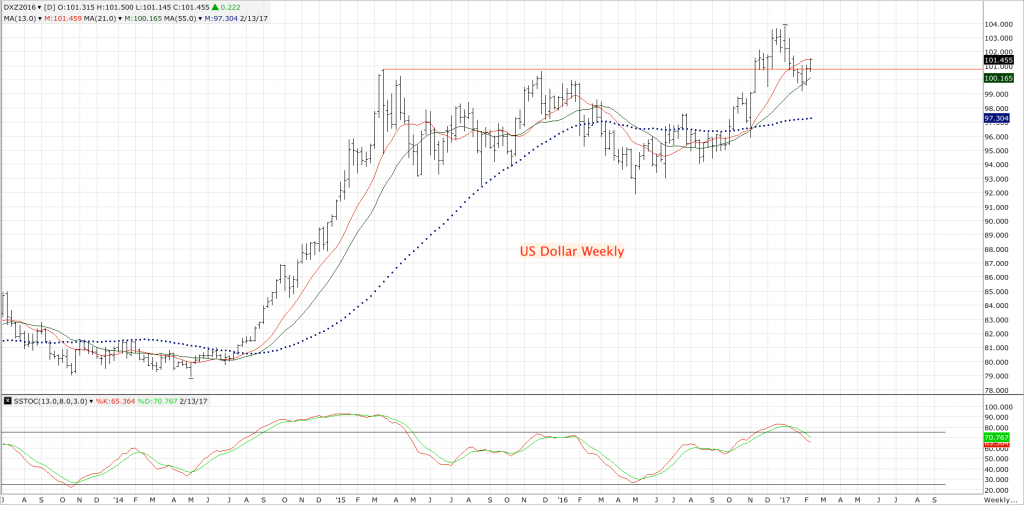 We are now more than half way through the period for the northern states crop insurance pricing and we have an average for December corn of 3.96 and 10.21 for soybeans.  If I am computing this correctly this would mean that for someone with a corn APH of 180 bushels and beans at 60 your potential revenue guarantee would be $18 per acre above last year and $81 per acre higher for soybeans.  For many, economics would seem to be shouting that you should switch to more beans, which of course is exactly what preliminary trade estimates are saying.  Informa had previously projected around a 3-million-acre switch and I see overnight that Doane's has released a similar estimate for change.  They have projected corn acreage to come in at 90.6 million acres which would be down 3.4 million and beans at 86.1, up 3.1 million.  I suspect the focus for over the next week will increasingly be directed towards anticipating the estimate that will be released by the USDA at the Annual Outlook Forum.
Overall macros are negative this morning with energies soft, metals lower and the dollar strong.  Ideally, we will see solid export sales reported in the morning but outside of that, it would seem we have little to support prices for now.