Evidently not content to drink alone, bulls in the bean market decided to pass their chalice of hemlock over to the corn and wheat bulls yesterday, and more than a few of them appear to have taken a pretty good swig.  As they say, misery does love company.  This was enough to push the combination price chart down to the lowest point traded since April. While I cannot say for certain if the goblet has now been drained, but we have witnessed a decent rebound overnight, and I suspect the worst may be nearly over for now.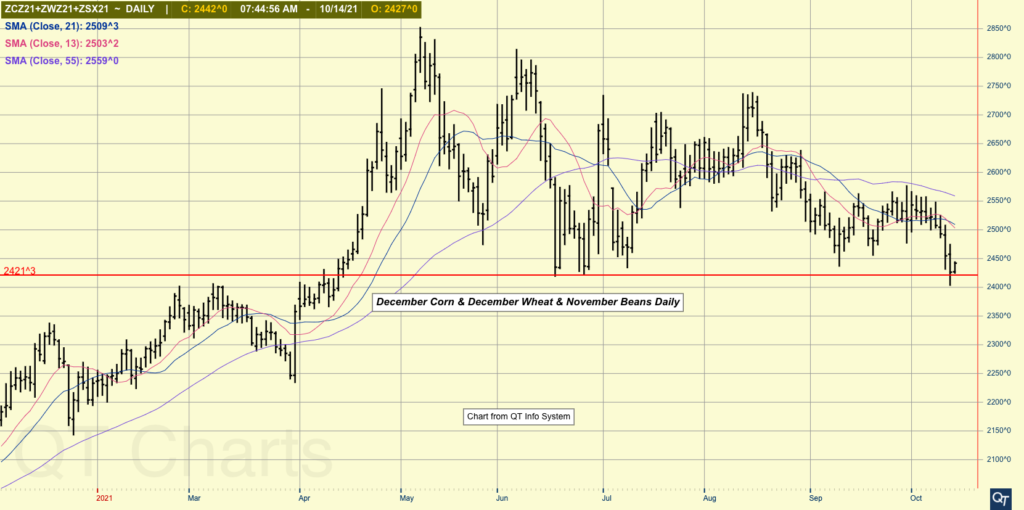 Due to the federal holiday on Monday, weekly export sales will be delayed until tomorrow morning, but we did see more business overnight.  This morning the USDA reports that another 132,000 MT of beans were sold to unknown destinations.
While it will not lead to any direct business with the U.S., after suffering one of the worst droughts in 50 years, it is expected that Iran will be in the world wheat market for record quantities.  They usually produce around 15 MMT of wheat each year, but this year's production is estimated to be in the 10 to 11 MMT range.  The Chairman of the Grain Supplying Association of Iran estimates they will need to import around 8 MMT this year compared with initial estimates of around 2.5.  The USDA currently has its estimate at 4.5 MMT.
Inflation is a prime topic again this morning as we now have the PPI number for September released.  Of course, not to be confused with the CPI figures released yesterday.  Regardless, the September PPI Final Demand number shows an increase of .5% versus an expected .6%.  When food and energy were excluded, the number increased just .2% compared with the expected .5%.  St. Louis Fed President James Bullard stated this morning that he believes there are 50/50 odds that high inflation levels will persist.
Another positive sign in weekly initial jobless claims report as it dipped down by another 36,000 to 293,000.  This is the first time we have been below 300,000 since mid-March of 2020.
Over in the macros this morning, we find energies and metals higher, financial instrument firm, the dollar soft, and equities strong, with the Dow Industrials now higher for the week.