Grain and soy markets finished out last week on a high note, both literally and figuratively, but there is scant sign of much positivity carrying through into this morning.  Yes, a few markets did poke up into higher highs in the overnight trade, but by the morning break, the optimism had dissipated.  With reports behind us and a generally clear harvest forecast for at least the next week, bulls have little to cling onto at this time.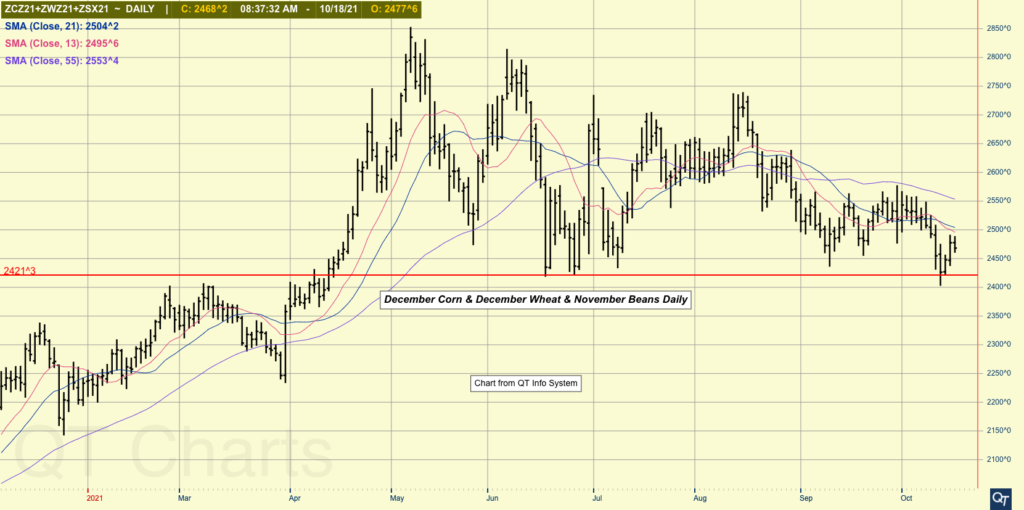 China released additional import data for September this morning.  Corn imports for the month totaled 3.53 MMT, which is 226% above the same month last year.  This brings the year-to-date total to 24.93 MMT, up 274% from 2020.  Barley imports for the month totaled 1.51 MMT, which brings the year-to-date figure to 8.61 MMT, up 85% for the year.  Sorghum imports came through at 650,000 MT for the month, with the year-to-date reaching 7.35 MMT, up 110%.  Wheat imports for the month were down 40.4% to 640,000 MT, but the year-to-date total is still 25% over last year.  We have a slightly different picture for pork, though. September imports slipped to 210,000 MT, down 44% from the same month last year, bringing the year-to-date number to 3.14 MMT, down 4.3% for the year.  Part of this can be explained by the fact that their domestic pork output is up 38% for the year, reaching 39.17 MMT.  They now estimate that the pig herd has reached 437.64 million head, an 18.2% increase from last year.  Once again, to keep this in perspective, the U.S. hog herd is currently estimated to be 75.4 million head, or 18% the size of China's.
Nothing new to report on the export scene this morning.
Not much encouraging on the economic news front this morning either.  The Federal Reserve September U.S. Industrial Production number slid down to a negative 1.3% versus an expected +.2%, and the Capacity Utilization slipped to 75.2% versus the anticipated 76.5%.
In the macro scene, we find energies higher again, with Brent crude within striking distance of the 2018 peak at 86.74.  Metals are mixed with gold higher and silver lower. Financial instruments are flat to lower, equities under pressure, and the U.S. Dollar steady to higher.  While the dollar has been in a holding pattern now for the past four weeks, we have maintained the push into new highs for the year, and technical indicators both weekly and monthly would appear to suggest there are should be more gains on the horizon.