The grain and soy markets continue to edge their way higher, now led by the market that received the most negative news from Uncle Sam last week, namely soybeans.  Initially driven (no pun intended) by the bio-fuel oil markets, and now some bargain buying in meal, but I remain skeptical that we will be able to extend these markets much more with the news at hand.  Yes, harvest for both corn and beans are over the mid-point hump, which could limit downside pressure. Still, until we truly begin to uncover demand beyond what would be routine, it is difficult to imagine we have much upside potential either.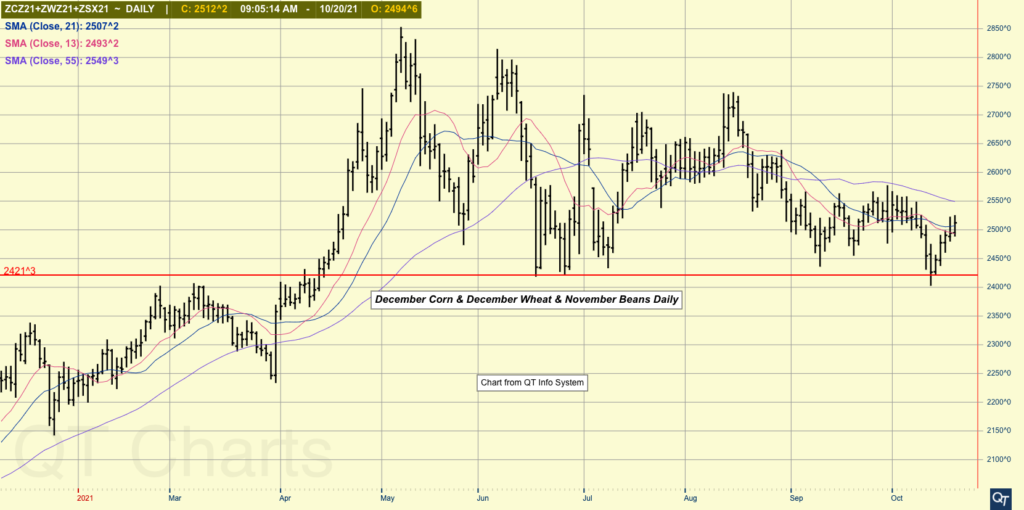 China has now updated the soybean import data for September.  The lion's share of beans came from Brazil, as they unloaded 5.936 MMT from that country, which was down 18% from the same month last year.  If you think that is a significant reduction, wait until you see the numbers from the U.S. as they unloaded just 169,439 MT of our beans, an 85% reduction from the same month last year.  Do keep in mind that hurricane Ida limited our ability to load beans, but negative hog margins in China have also curtailed demand.
As long as we are on the topic of China, you most likely saw early this week that their GDP grew by just 4.9% in the last quarter, compared with an expected 5.2%.  Of course, their issues with the real estate industry, remember Evergrande, probably did not help, but much of the disappointment was laid at the feet of industrial production, which rose 3.1% versus an expected 4.5%.  While I am unsure how much of this can be attributed to energy/power issues, that has undoubtedly become a hot topic.  It seems the major issue here centers on coal, and for a number of reasons, coal prices have shot more than 200% higher this year.  As you might expect, this has become a significant point of concern for the government.  While I do not believe they have intervened directly just yet outside of diverting more rail cars to move coal, they are "encouraging" producers to increase output and have been throwing out warnings to speculators, threatening to take "firm measures" while not spelling out exactly what that entails.  If I were one of the "speculators," I do not believe I would want to hang around and find out, and sure enough, prices dropped more than 8% on the open today.
In the macros world today, we have energies and metals higher. Financial instruments are soft, the dollar a smidge weaker, and equities are higher for the third day in a row.  In fact, the Dow Jones Industrial Average is once again threatening to push into new record highs.  The Energizer Bunny has nothing on this market.