Good Monday morning from a very wet Northern Illinois.  I honestly cannot remember the last time I could say that.  It certainly never occurred throughout the growing season, and I really do not recall an overabundance of rain in the spring.  Regardless, while the soil recharge is appreciated, as you would expect, harvest here has been brought to a standstill. With more moisture predicted for Thursday/Friday this week, it would appear that we will not see much action until the calendar has rolled over to November.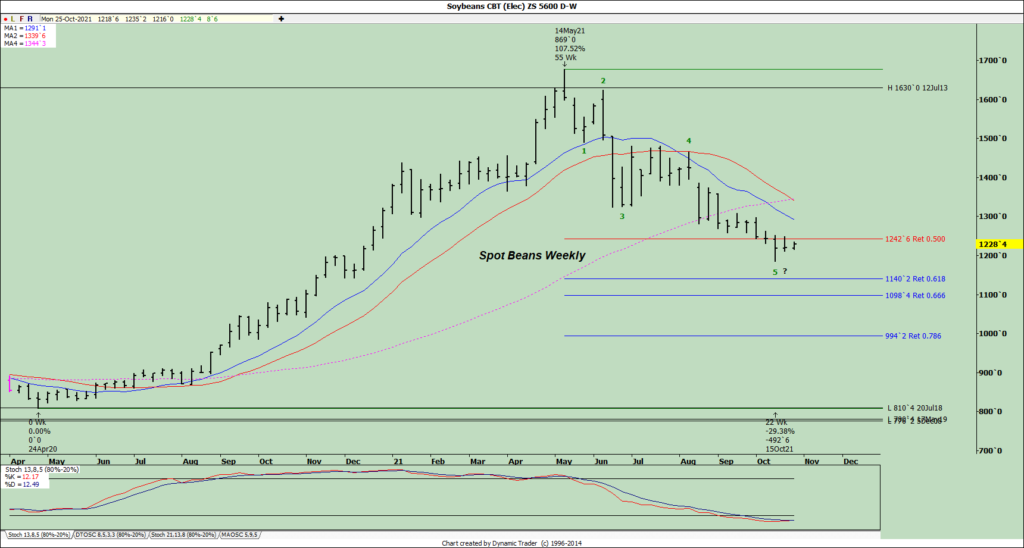 At least partially inspired by harvest delays, grain and soy markets have begun the week on a positive note, which for corn and wheat is a continuation of strength, but for beans, a reversal after a few days of pressure.  Outside of the big export sales that were reported last Thursday, which by the way appeared to have provided little to no price support, the fundamental picture in beans as of late has unquestionably taken a dour turn.  With ending stocks now projected to climb north of 300 million once again and Brazil off to a good start planting what is expected to be a 4% increase in acreage, the bull has had little to grasp onto.  All that said, I would direct your attention to the technical picture right now.  One of the theories of using technical analysis is the belief that levels of price balance and/or underlying shifts in supply/demand will be reflected in price action before they become evident in the news. I would suggest that beans fit into this category right now.  After rallying for 55 weeks and gaining a bit over 100% through 2020/21, spot futures have now been tracking generally lower for the past 22+ weeks and, to date, have lost nearly 30% in price and retraced a bit more than 50% of the overall advance.  During this slide, we have seen weekly stochastics move rather steadily from the overbought zone to the oversold, and have now, for the past several weeks, lost their downward momentum and turned sideways.  While I am not prepared to say we have a low established in this market, the overall technical picture would appear to suggest we are moving close to doing so.  Keep in mind, even when that happens, it does mean we have significant advances in the cards, of course, unless weather issues develop in Brazil. Still, it would at least say that there would be no need to make additional sales without witnessing a rebound first.
Looking at the macros as we enter this final week of October, we find energies strong again, metals higher, financial instruments under pressure, equities showing meager gains, (that was after all a new record high weekly close last week), and the dollar trading higher.