This morning, it dawned on me that the phrase, Turnaround Tuesday, sounds quite similar to the often used Terrible Two's.  Coincidence? I think not.  Almost anyone who has first-hand experience with a two-year-old knows that they can often be quite contrary and will often do just the opposite of what you ask of them.  In a similar vein, when markets misbehave, sometimes they need to be put into a time-out to allow them an opportunity to think about what they are doing, and worst-case scenario, when that does not help, a few children (markets) may need to be taken behind the woodshed for a little extra persuasion.  Let's hope it does not come to that today.  Currently, we have minor pressure across the grain and soy trade.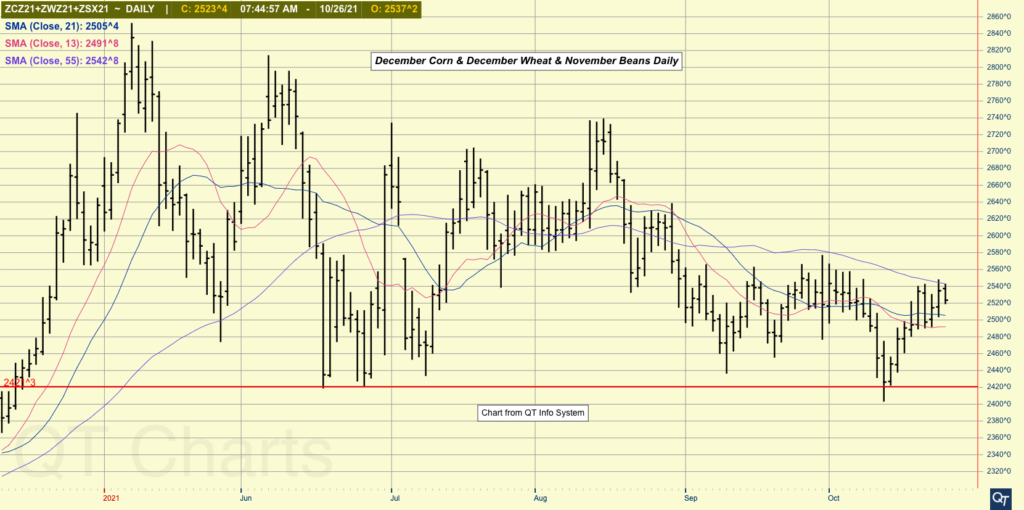 We do have a little export business to report this morning.  China was back to purchase 199,000 MT of Soybeans and Mexico was in for 125,730 MT.  This business has been rumored, so the market reaction was quite muted, i.e., nonexistent.
Domestic corn harvest moved ahead 13% last week and was estimated to be 66% complete by Sunday.  This would be 13% ahead of the 5-year average.  Beans harvest moved forged ahead by the same percentage and has reached 73% complete, compared with an average of 70%.  Cotton harvest has moved up to 35% complete versus 41% on average, and winter wheat planting is now 80%.  The first wheat condition report was the season has 46% of the crop rated good/excellent compared with 41% a year ago.
Planting in Brazil continues to charge ahead, with beans now 38% complete and first season corn 63%.  This compares with a year ago at 23% and 51%, respectively, a year ago.  Good rains continue to fall, so this crop appears to be getting off to a great start.  In Argentina, corn planting pushed a bit beyond 26% complete, versus an average of 33%, and beans are 1% done.  Overall, conditions remain dry in this country.
The Case-Shiller home price index for August was released this morning and reflected a 19.7% jump in price from a year ago.  This was 1/10th less than expected but again, keep in mind we what we are comparing with. The month-over-month increase was just .9%, which marks four months in a row of declining numbers.  The Redbook Weekly US Retail Sales were also released this morning, showing a 15.3% increase for the first three weeks of this month compared with a year ago.  No surprises here either.
In the macros, we have metals and energies soft, financial instruments a bit higher, the dollar a smidge higher, and equities pushing into higher highs again.