The month of October is winding down quickly, and trade in grain and soy markets has become rather stale.  Oh sure, we have seen flashes of excitement now and again, but as a whole, moves have not been able to extend much in any.  The trading range thus far this week on the combination chart is the narrowest we have seen posted since prices began to turn higher back in the summer of 2020.  Are people becoming bored with Ag?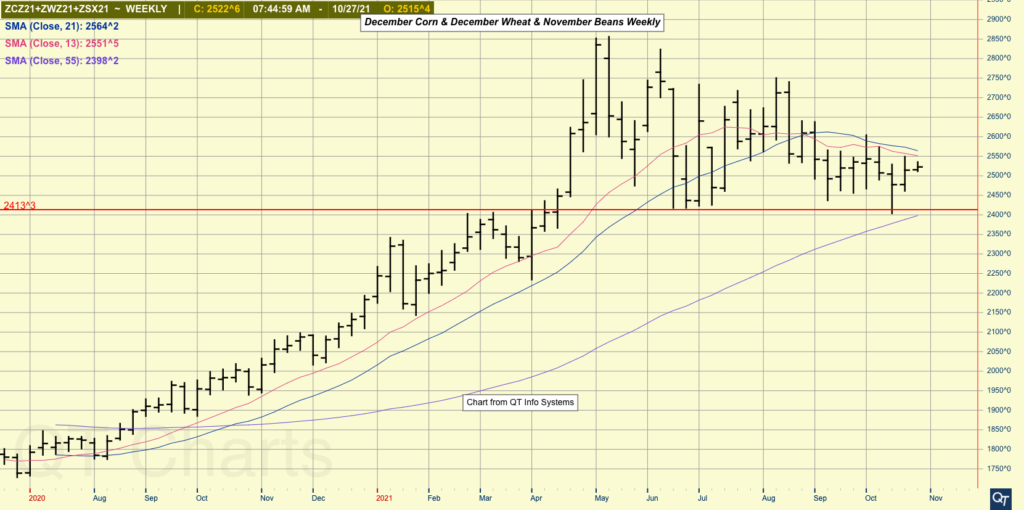 As is typical on a Wednesday morning, fresh news has been rather sparse this morning and we appear to have drawn a blank in daily export sales announcements.  The weekly sales figures will be released tomorrow morning but should hold few surprises.
The past year has restored the fortunes of more than a few farms in this nation and it has been a pretty lucrative time for many agribusinesses as well.  Yesterday, ADM released third-quarter financials, which show net earnings rising 134% from a year ago to $526 million or $.93 per share. Revenues increased over $5 billion to $20.34 billion. For the first nine months of the calendar year, net earnings are now at $1.927 billion.  Bunge has not done too bad either as net earnings for the third-quarter rose nearly 250% above last year, coming in at $653 million. In fact, in that single quarter, they have now outpaced the earning for the first 9-months of 2020, which came in at $594 million.  To date this year, they show net earnings of $1.847 billion.  Not too shabby.
Looking at the macros this morning, metals are flat, equities a smidge higher, and the dollar soft.  Energies have extended to highs again this week, with Brent touching the 2018 peak before backing up just a bit. Earlier this week, Goldman Sachs told clients that they expect to see crude extend to $90, and then yesterday, I saw a few others who were bantering about projections to the $100 level.  While we have yet to see any real signs of exhaustion just, when you begin to see firms try to out-bull each other with upside price projections, it is time to be on the lookout for a peak.