While Halloween is still a few days away, it would appear that bulls in the grain and soy markets will be receiving most of the treats this week.   If we were to wrap up trade right now, soybeans would have gained 15-cents for the week, Chicago wheat is now 10-cents higher, but the kid with the most treats in their bag is corn, which currently sits 25-cents higher for the week. The reasons as to why corn was able to wrestle the bull reins away from wheat this week is still somewhat of a mystery.  There did not appear to be any earth-shattering news from the fundamental front, and while it is month-end, it did not appear that there should have been a large number of speculative shorts that we're anxious to cash in the chip and go home.  Accordingly, I will chalk it up to a technical move this week and suspect it will exhaust, sooner than later.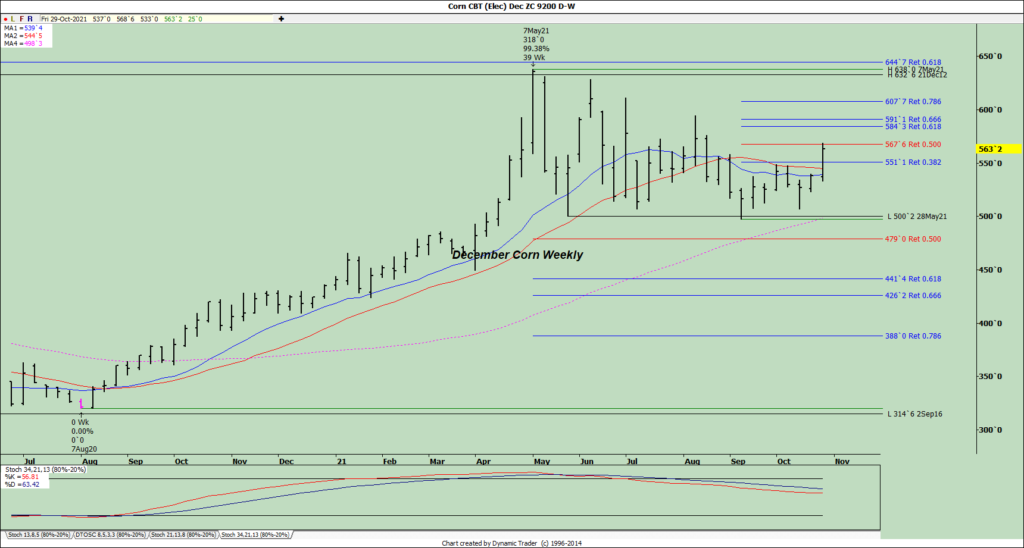 Damp weather has hampered harvest across many parts of the Midwest this past week, but the morning forecast appears to promise dryer conditions next week as well as some freezing temperatures.  Looking around the rest of the globe, weather in Brazil is now described as near perfect for crops, and moisture appears to be headed for Argentina as well.  Australia has beneficial moisture in the picture for the next couple of weeks, the Black Sea region and Eastern Europe will remain dry, and Western Europe will trend wetter.
In France, the corn harvest pace appears to have picked up as AgriMer now estimates that 54% of the corn is out.  This is up from 32% a week ago but remains well begin last year when 87% of the crop was out.  61% of soft wheat has been planted, 7% of durum, and 78% of the winter barley.
The European Union has updated crop estimates this morning.  They now have corn production at 67.8 MMT, down 1 million from the last estimate, soft wheat at 130.3 MMT, down from 131, barley is estimated to total 51.9 MMT, down .5, and Rapeseed a fraction higher than last month at 17 MMT.  Corn imports into the Union as estimated to total 14.5 MMT, soft wheat imports of 30 MMT, and rapeseed 5.7.
The USDA did also announce a few sales to wrap up the week/month.  Mexico purchased 279,415 MT of corn, 132,000 MT of beans were sold to unknown destinations, and there was a late report of 222,350 MT of beans sold to unknown as well.
Wrapping up the macros for the week, we find crude oil down $1.30 for the week, gold is down $20, and 10-year notes are down 15-points.  The U.S. Dollar is virtually unchanged for the week, the S&P 500 is up 32 points and into new record highs, and Bitcoin is up almost $300 for the week, which sounds mild compared with its $7,000+ weekly range.