As expected, the corn and bean harvest pace was slowed down but not brought to a complete halt last week. Corn still moved ahead 8% points to 74% complete, which coincidently is 8% ahead of the 5-year average. Bean harvest moved forward 6% to 79% complete, leaving us 2% behind average. With a generally dry forecast for the next ten days to two weeks, the 2021 corn and bean harvest should soon be in the record books. Cotton harvest moved ahead 10 points last week to reach 45% complete, just 3% behind average, and winter wheat is now 87% planted. Ratings for this crop slipped 1% to 45% good/excellent.
Weather delays are certainly not an issue for Brazil this year as bean planting continues to charge forward at the second-quickest pace on record.  According to AgRural, 52% of the acreage is now planted, which is 10% ahead of last year and nearly 12% ahead of the 5-year average.  Just as important is the fact that the weather has been quite favorable thus far.  We had not looked at a chart of the Brazilian Real for some time, so included one this morning.  While this currency has been in a very broad sideways pattern for the past eighteen months or so, it has been trending lower for the past four and currently is around 5% lower than a year ago.  Combine this with the fact that spot bean futures are currently 13% higher than last year at this time; it does not take a genius to see why farmers in that nation may be in a hurry to try and capitalize.  First crop corn planting also moved forward by 10%, reaching 63% complete, which is 9% ahead of last year.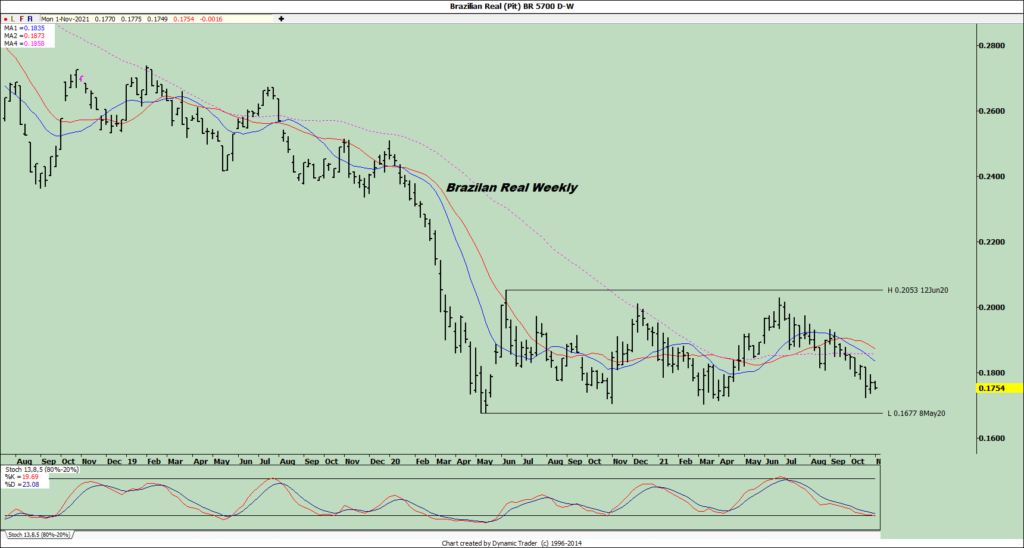 While weather conditions in Argentina have improved some, the pace of planting has not increased significantly.  It is estimated that 4.6% of the beans and 27.6% of corn are now in the ground. This is close to an average pace for corn but is 8% behind in corn.  According to the Argentina Soybean Association, farmers in that country will plant the fewest beans in 15 years.  Questionable weather, fewer advances in yield, and of course, high export taxes, which was 33% for beans and 31% for products, make corn a more potentially profitable crop of choice.  The export tax on corn is 12%.
Weekly Retail Sales were released by Redbook this morning.  For the first four weeks of October, they rose 15.7% above last year, and just for the week ending October 30th, they were up 16.9%.  Eventually, we will reach a time when we are not comparing numbers to the covid shutdown.
In the macros this morning, we find energies and metal soft, financial instruments a bit higher, equities flat, the dollar a smidge higher, and Bitcoin strong.