It is probably not politically correct to use this metaphor anymore, particularly seeing that opera singers today are often rather svelte. Still, in light of the action, we are witnessing in the grain and soy markets, it is beginning to appear that the fat lady has taken the stage for her final aria.  And, if you know much about operas, they often end on a sad note.  By no means have we seen prices collapse, but of current bull leader, wheat, is experiencing its most significant setback in weeks, and corn and beans appear to be falling in line.  Maybe this all is just a bump on the road higher but considering the fact that all of these markets are sitting in an overbought position, have rallied into the beginning of a new month as well as a number of good cycle counts, and that we have entered the holiday season, I would not be shocked to see a more extended correction, at least in time, this go around.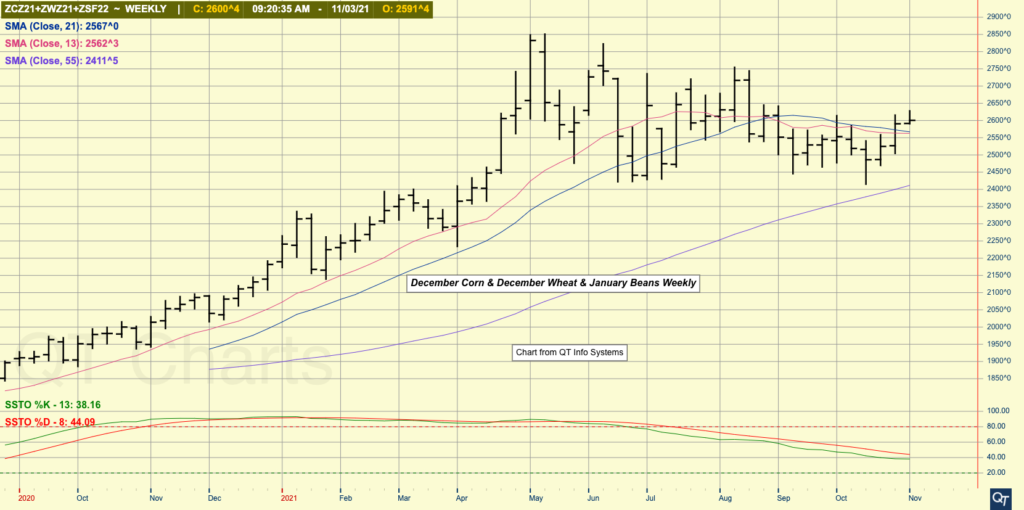 Outside of the fact that it was reported that workers at 12 John Deere facilities have rejected the second wage/benefit offer from that company, it would appear we have little in the way for fresh Ag-related news this morning.  We will make up for that soon enough, though, as tomorrow we will again see weekly export numbers. More importantly, next Tuesday will bring the release of the November production and supply/demand estimate.  We should be hearing trade estimates over the next couple of days, and I suspect many will anticipate higher yield figures for corn and beans.  Keep in mind as well; this will be the last production estimate until the final figures are released in January.
The FOMC will be wrapping up its November meeting later today, and markets are expecting to hear that they will begin the taper process backing down the monthly bond purchases.  Kind of a weaning process.   The financial instruments are trading flat today, so unless they come through with some type of "November Surprise," one has to suspect the changes have been pretty well kneaded into the market dough.
I would point out that a number of "other" commodity markets are swooning this morning.  Both crude oil and metals are under decent pressure, as are the other soft commodities, sans coffee. Could we finally be looking at the completion of this now 80-month long commodity bull?  The possibility is very real. Peaks do not occur because of an introduction of bearish news, and in fact, generally occur when it is the most bullish and talked about. Has anyone heard about all the inflation recently?  It seems that is the only thing on people's minds.