The wheat and corn market bulls charged into the month of November with all the exuberance of an energetic puppy that was let out into the yard to witness its first snowfall.  After taking a bit of time to frolic around, though, they must have decided this was not all that fun after all and made a mad dash back for the house where the other littermates were resting comfortably in warmer and dryer conditions.  If we wrapped up trade right now, corn would have lost right at a dime for the week, and Chicago wheat would be down a penny but more than thirty cents down from its highs.  In case you are curious, beans are currently thirty-four cents lower for the week.  This is not to say that they will not want to head out again once they have gotten a bit of rest, but they may need a little incentive from their Uncle Sam next week to provide some encouragement (or not).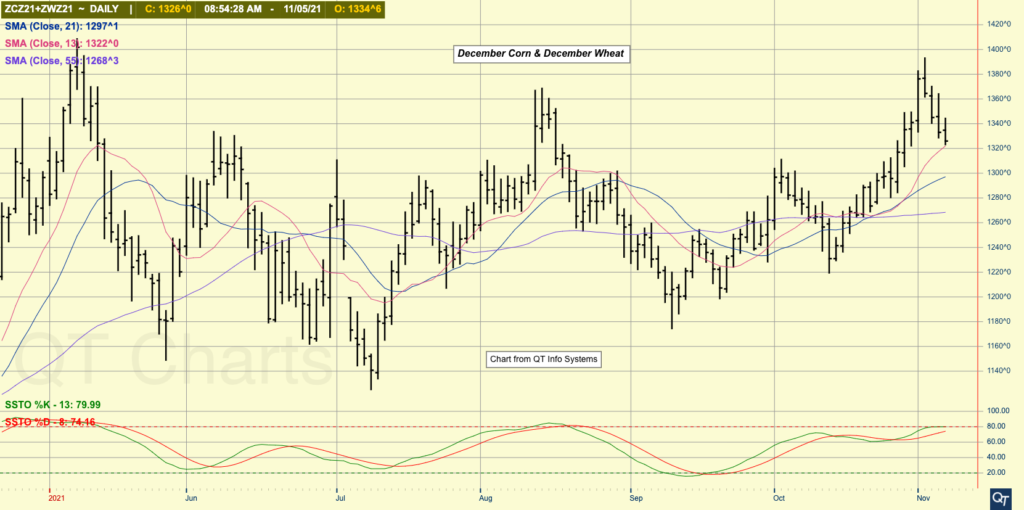 As for the upcoming report, here are the trade estimates. The average trade estimate for corn production has settled in at 15.05 billion bushels, coming from a yield of 176.9 bpa.  This compares with 15.019 billion bushels and a yield of 176.5 on the October report.  Ending stocks are projected to come in at 1.482 billion, versus the 1.50 number last month.  In beans, the average production number is 4.483 billion bushels from a yield of 51.9 bpa.  Ending stocks are expected to total 364 million bushels compared with 320 million previously.  Wheat ending stocks are expected to come through at 581 million, which would be up 1 million from last month.  On the global scene, corn ending stocks are expected to total 301 MMT, down from 301.74 last month.  Beans at 105.5, versus 104.57 and wheat at 276.7 MMT, compared with 277.18 last month.
I intend to look at the employment situation in a bit more depth in the weekly letter, but there was mildly positive news in the report for October.  The economy produced 531,000 new positions compared with an expected 450,000, and the unemployment rate slipped 1/10th to 4.6%, setting another post-pandemic low.
As we have covered already this week, the Fed has announced they will begin the tapering process this month, which does not appear to have shaken the confidence in many bulls in the equity markets.  The Dow, S&P, and Nasdaq are all into new highs this week.   It is interesting to note as well that since the announcement that tapering will begin, financial instruments have been tracking higher, with a classic example of selling the rumor, buy the fact.  The one market that appears to be moving into new territory is the dollar, which has pressed into higher highs for the year.  If this move continues, as indicators on the monthly charts suggest it will, it will not be a positive for the commodity sector.