By: Dan Hueber –
This has worked out to a rather erratic and choppy week in the grain and soy market as we have watched prices hack back and forth, with grains on more than one occasions reaching to the highest levels witnessed yet this year and then quickly retreating.  If we were to close right now, nearby corn would be down 4 ½-cents, beans down 23-cents and wheat 4 ½ cents. In many respects, you would have to say that the surprise this week and realistically for the month as a whole thus far is the fact that we were able to extend the early 2017 rally on little fresh positive news.  I will reiterate that I believe this is a positive longer-term setup but we are going to need some type of problem in the production side of the equation to truly extend gains and for the Northern Hemisphere at least, the potential for such a stimulus remains months away. Of course as we have discussed earlier this week, the side benefit that we should be grateful for is the fact that this February strength has helped lift the prices for crop insurance above last year and currently stands at 3.97 for December corn and 10.22 for November beans.  While I do not want to jinx it, with only 7 out of 19 pricing days left, even a downturn in prices now should not create a major impact on lowering these averages.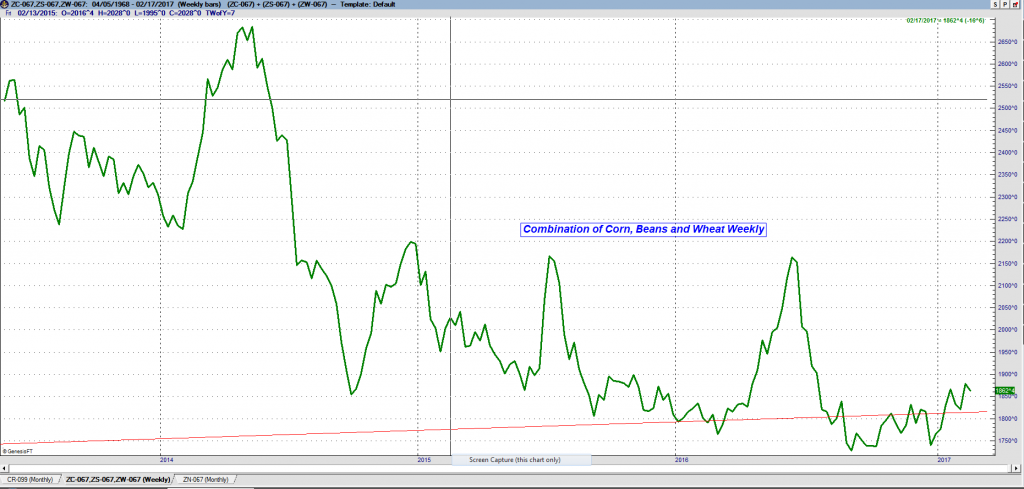 I suspect next week that the majority of the focus will be directed toward the USDA Ag Forum which officially kicks off on Thursday.  Traditionally acreage numbers are released on day one and supply/demand estimates on day two.  I intend to push the numbers out as soon as they are released.
We are finishing the week with a little positive news in export sales as under the daily system it was reported that we sold 194,112 MT of corn to Japan with 60k of this for the current crop year and the balance for 2017/18.  Macros are leaning to the negative side this morning with energies soft, and the dollar higher.  Given that this is a three-day weekend, unless a surprise story comes along, I have to imagine that much of the trade will be position squaring.
Have a good weekend.