While we all continue to hear horror stories about the backlogs that exist at ports around the world, and the lineup of ships at ports waiting to unload, it is interesting to see that freight rates for container ships have turned sharply lower during the last few weeks.  I understand part of this is seasonal, and over course, rates had pushed to outlandish levels this year, but as the old saying goes, the bigger they are, the harder they fall.  I read that the Drewry's World Composite Index, which reflects container shipping dropped 4.9% just in the first week of November, which was the largest week-on-week drop in four years.  We have witnessed an even more significant decline in the bulk shipping market as the Baltic Dry Index has collapsed nearly 50% since the October peak.  We shall have to see if this is indeed just seasonal as has been maintained, but one has to wonder if it is possibly a lead indicator that some of the supply chain issues are on the mend.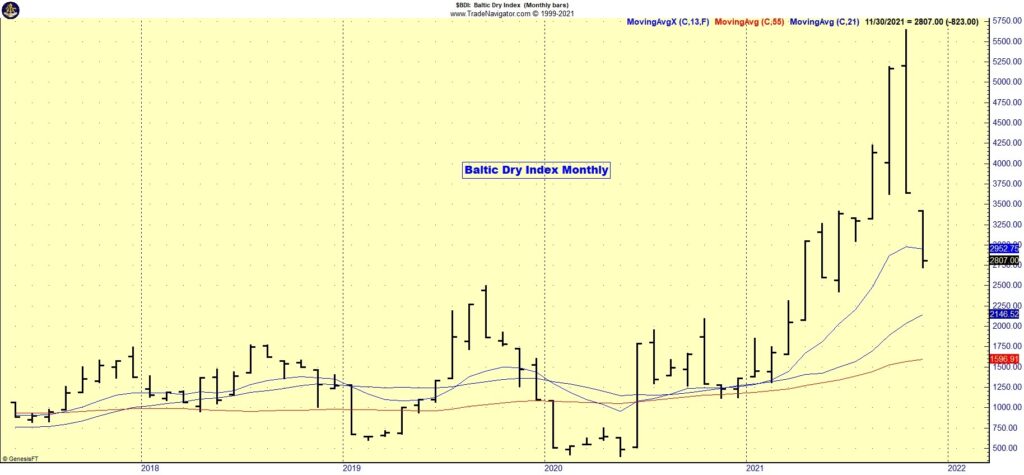 Grain and soy markets do not have an overabundance of news to work with as we begin this new week, but we do at least have a few export sales to kick things off.  Mexico was in to purchase 198,200 MT of corn, of which 50k is for the 2022/23 crop year, and 264,000 MT of beans were sold to unknown destinations.  We will see the NOPA crush data for October, and then, of course, later today, the USDA will provide updates for harvest progress.  Keep in mind, we are moving deeper into the holiday season, and swings can become exaggerated due to reduced trading volumes.
While it technically only applies to one state, the NY Fed Empire State Indexes released this morning were quite positive.  The manufacturing index rose to plus 30.9 compared to expectations of 20.5, and the Employment index was a plus 26%, a record, versus last month at 17.1. As you might expect, prices were higher with Prices received +50.8, versus +43.5 previously and Prices Paid +83 compared with +78.7 last month.  November shipments registered a positive 28.2 versus just 8.9 previously.
None of this would appear to have influenced macro trade much, though.  The US dollar is fractionally lower, equities are higher, metals are soft, Bitcoin is modestly higher, and energies are under pressure once again.