The story has it that after hearing that a major newspaper had printed his obituary, Mark Twain, or Samuel Clemens if you prefer, quipped to a reported who contacted him to verify, said, "The reports of my death are grossly exaggerated."  It would appear that the same can be said of the 2021 bull market in the grain and soybeans markets.  Over the past week or so, we have seen prices shake off the funk they have been in, and as a group, have pushed back to the highest levels traded since mid-August.  Does this signal we are into a new move higher, or are we just looking at your typical corrective retracement?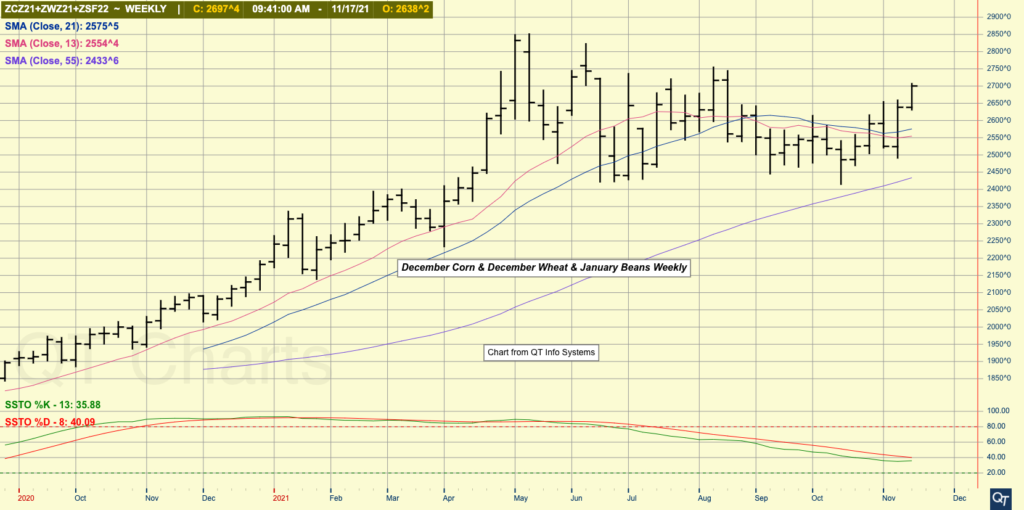 I tend to be in the crowd that believes that latter of these two.  While there may be something positive brewing beneath the surface that has yet to come to light, but I suspect the lighter end-of-year volume is allowing this move to exaggerate just a bit.  Trying to outguess the market during the last two months of the year can often be a frustrating and, at times, unprofitable endeavor.
Providing some encouragement this week has been daily export interest, and the USDA did announce a couple more sales this morning.  China purchased another 132,000 MT of soybeans (yawn) but a bit more interesting as a sale of 30,000 MT of bean oil to India.  Weekly sales will be released tomorrow morning.
While seasonality has to fit into the picture, new housing starts in the U.S. continue to struggle.  During October, they fell .7% versus a year ago to 1.52 million units.  As a percentage, this was an improvement over September when the figure was down 2.7%, but economists were looking for a gain of 1.6%.  This was also the second month in a row of declining numbers.

In the macros this morning, we find metals higher, Bitcoin fractionally lower, financial instruments flat, equities under pressure, and the dollar stable.  Last but not least, crude oil is under decent pressure again this morning and approaching the early November lows.  If we press through that mark on a close, which for the spot WTI contract is at 78.25, which I think we will, it should confirm we have a high in place for now.