Seven score and eighteen years ago today, these words were spoken on the battlefield at Gettysburg, Pennsylvania.  As with all great speeches, it not only provides us with profound wisdom, it spoke to the hearts and spirits of those present that day, and should continue to speak to every generation henceforth.
Four score and seven years ago our fathers brought forth on this continent, a new nation, conceived in Liberty, and dedicated to the proposition that all men are created equal.
Now we are engaged in a great civil war, testing whether that nation, or any nation so conceived and so dedicated, can long endure. We are met on a great battle-field of that war. We have come to dedicate a portion of that field, as a final resting place for those who here gave their lives that that nation might live. It is altogether fitting and proper that we should do this.
But, in a larger sense, we can not dedicate — we can not consecrate — we can not hallow — this ground. The brave men, living and dead, who struggled here, have consecrated it, far above our poor power to add or detract. The world will little note, nor long remember what we say here, but it can never forget what they did here. It is for us the living, rather, to be dedicated here to the unfinished work which they who fought here have thus far so nobly advanced. It is rather for us to be here dedicated to the great task remaining before us — that from these honored dead we take increased devotion to that cause for which they gave the last full measure of devotion — that we here highly resolve that these dead shall not have died in vain- that this nation, under God, shall have a new birth of freedom — and that government of the people, by the people, for the people, shall not perish from the earth. – President Abraham Lincoln
While there were moments of excitement for the bulls in the grain and soy markets this week, it would appear we are headed for a somewhat dour finish.  Nearby bean futures remain around 20-cents higher for the week but have fallen more than that from the week's highs. Nearby Chicago wheat is a couple of pennies stronger but failed to sustain the push into higher highs, and corn is now nearly 9-cents lower for the week.  I guess none of this should really come as a surprise, as there was little in the news to inspire either bulls or bears.  As I have noted previously, when you enter the holiday months of November and December, it is often little more than an opportunity to see markets separate people from their money.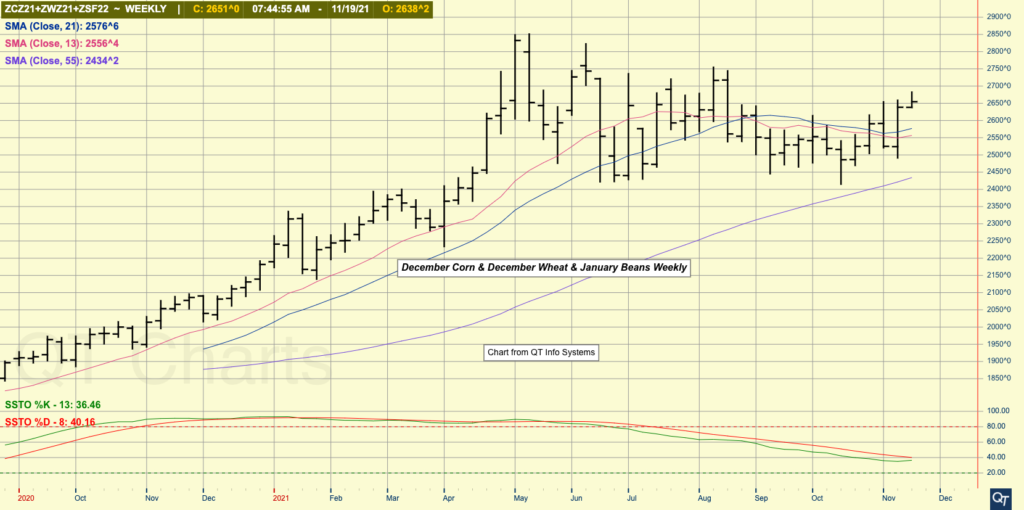 The International Grains Council released updates this week.  Partially due to the drought experienced in Iran, they cut world wheat production 4 MMT to 117 MMT.  In turn, they raised their corn estimate by 2 MMT to 1.212 BMT.
Looking at the macros as we work towards the completion of this week, we find energies under pressure, metals a bit higher, financial instruments strong, equities weak, and the dollar on track to post the highest weekly close since July of last year.