As the great American sage, Yogi Berra, once said, "It's like déjà vu all over again." Last week grain and soy markets we higher on Monday, only to give a portion of that back on Tuesday, and it would appear we have the same pattern at play this week.  Of course, that does not mean we have to rebound again tomorrow, but considering the volume of trade will most likely be rather sparse, anything is possible.  As you can see, overall, we remain within the same parameters as we have been trading since July.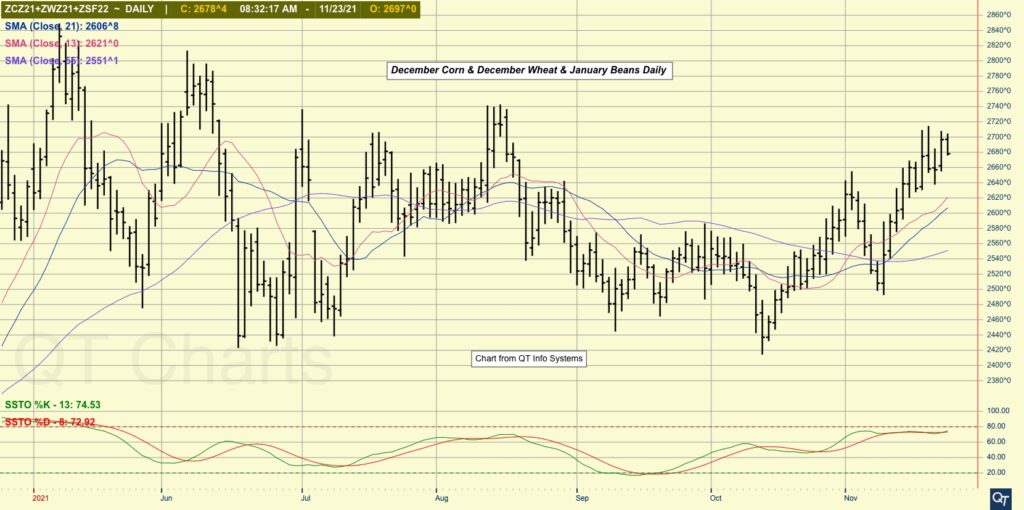 According to our friends at NASS, the harvest for both corn and beans is now 95% complete.  Ohio and Pennsylvania are bringing up the rear in corn with 84% and 86% complete, respectively.  In beans, we have North Carolina, 77%, and Kentucky, 83%, with the most yet to harvest.  Cotton harvest has now pulled ahead of the 5-year average with 75% complete, and 96% of winter wheat is in the ground, with 86% emerged.  Conditions slipped 2% to 44% good/excellent.
According to AgRural, Brazilian farmers have now planted 86% of the soybean acreage, which is 9% ahead of the average pace.  Overall, weather conditions have been favorable, and in fact, in some areas of the central part of the country, there has been too much moisture.  So much for the La Nina effect this year.  Keep in mind; we should be seeing bean harvest by early January.  The first season corn crop is now 91% planted.  Farmers in Argentina have finally been able to pick up the planting pace, with 28.6% of the beans in the ground, compared with an average of 31.5%.  This was an increase of nearly 10% for the week.  In the core production areas, corn is between 85 and 90% planted and has been rated 91% good/excellent.
Consumers continue to impress as the Redbook Weekly Retail Sales were 15.4% higher than that same week last year and for the first three weeks of November are up 15.3%.  Macros are little impressed with the numbers and, for the most part, appear to be experiencing the same pre-holiday chop as the Ag scene.  Metals are under pressure, energies are higher, financial instruments are lower, equities a bit higher, and the dollar flat.  This week, the dollar has extended to higher highs and has reached a 50% retracement of the 2020/2021 break.