Overall, the action this week in the grain and soy markets has been mildly positive.  Wheat led the way until, this morning at least, followed by corn with bean basically pulled up the rear, or maybe I should say being pulled up by the rear.  It would be easy to suggest that this will all come apart after the Thanksgiving break, looking particularly at wheat, but I am not so sure you will find many who will be all that aggressive in trying to short the others.  With harvest behind us, the focus will undoubtedly shift to demand, or lack thereof, and South American weather, which should keep bears from feeling overconfident for the time being, at least.  By no means am I suggesting we have a "bullish" scenario, but it would not be a surprise to see corn, in particular, track steady to higher through the balance of the year.  Can we put a 6 at the front of prices once again as a Christmas present?  Of course, that is yet to be determined, but with indicators positive, that would certainly not come as a surprise.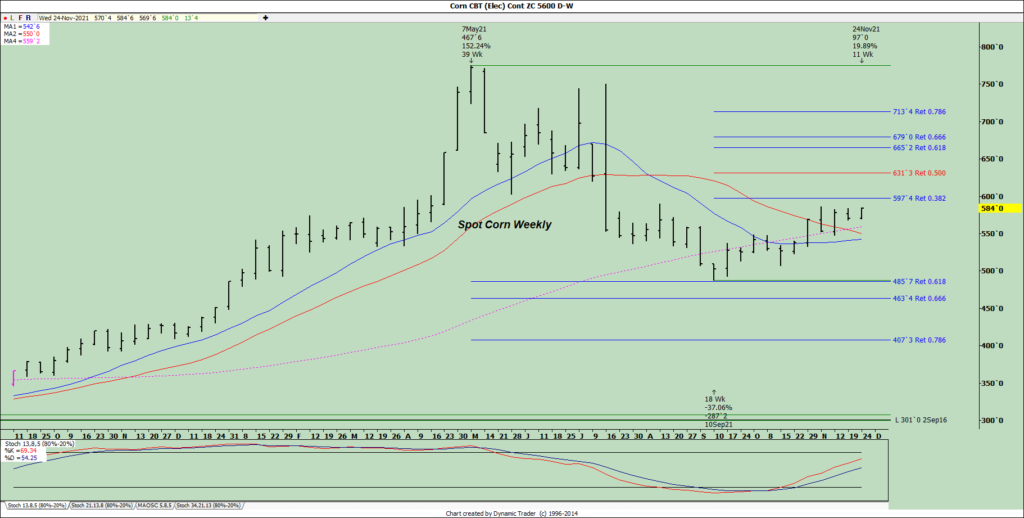 Outside of a couple of new export sales, 100k MT of corn to Mexico and 330k MT of bean to unknown, there is very little in the way of Ag-specific news around this morning.  The same cannot be said on the economic front as there are gobs of releases.  The weekly initial jobless claims were released a day early and reported a shocking 71,000 decrease to 199,000.  Economists were looking for a reduction of 8,000.  The preliminary 3rd quarter GDP came in at 2.1%, compared with the advanced number of 2%.  On the inflation register, the October PCE price index came through at .6%, versus the prior month of .3%, and year over year +.4.1% versus the previous reading of 3.6%.  During October, new home sales rose by .4% versus an expected zero change, and the final number for the University of Michigan consumer sentiment came through at 67.4 instead of 66.8.  Finally, consumers appear little phased by all the inflation as Personal Consumption spending in October rose 1.3% compared with .6% the prior month.
In the macro trade, we find energies a fraction higher, metal a touch softer. Equities are under pressure, and the dollar has extended to higher highs for the year yet again.  Financial instruments are flat this morning, but I would point out, this week, 10-year notes have pressed down to the lowest level (highest rate) since late January.  Obviously, the trade believes that the now re-appointed Jerome Powell will be advocating a boost in interest rates sooner than later.