Back in 1978, Hollywood released the movie Jaws 2, with the promotional slogan of "Just when you thought it was safe to go back in the water."  It seems that after the reaction that was witnessed across a number of markets last Friday, we can use the same phrase when it comes to trading and investing.  We have just become accustomed to dealing with the Delta variant of covid, and Omicron shows up in the water to scare everyone back to shore.  We have witnessed a reasonable recovery in many markets this morning, but one has to suspect that more than a few may remain on the beach for now.
I would point out that on the combination chart, it appeared that we were just about ready to wrap up this late-season rally anyway.  Beginning from the low in mid-October, we rallied for 14-sessions, gaining 240-points before the early November washout.  From there, we then climbed another 240-points over 11-sessions before turning lower.  While we have not entirely confirmed that this wave is complete, the handwriting appears to be on the wall.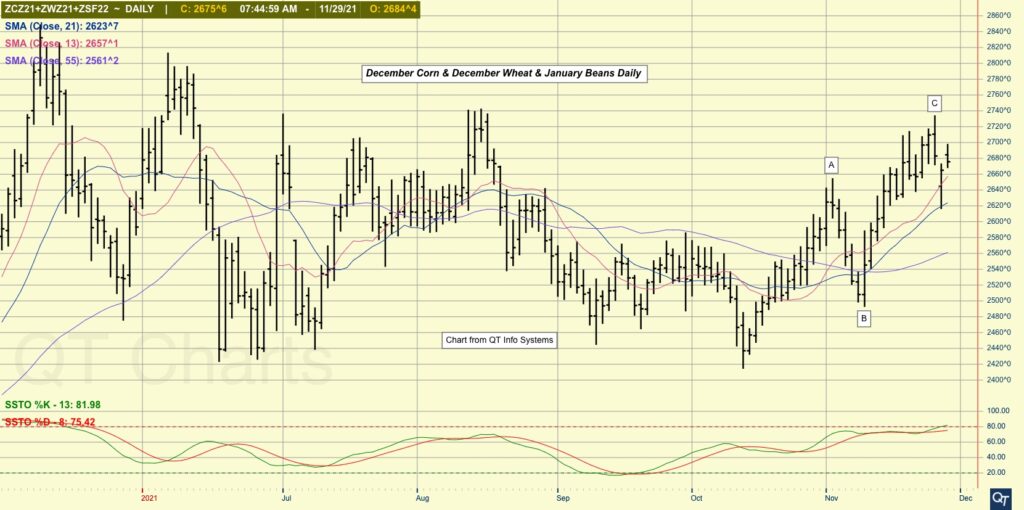 Ag-specific news is not exactly plentiful again this morning, and outside of normal exports data, that may be the case for the next month or so.  Australia's ABARE did update their wheat estimate this morning and projected a crop of 34.4 MMT.  By the way, that set a new record by 3%.
Macros have done an about-face this morning as well.  Energies are sharply higher, metals are firm, financial instruments are under pressure, equities are higher (but fading), and Bitcoin and the Dollar are strong.  It was a bit curious that those last two were caught up in the risk-off selling last Friday, but obviously, people just wanted to take money off the table.  Be that as it may, note that the dollar is on track to post the highest monthly close since June of 2020, and long-term, it does not appear to be done yet.